Self-Installing Car Seat? Yes, Please
by Maria Guido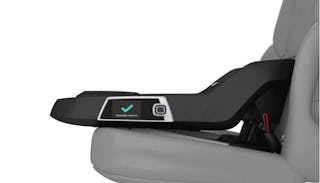 Coming this summer — a self-installing infant seat that will surely calm new parents.
There's nothing more confusing to a new parent than an infant car seat. Right? How terrified were you the first time you attempted to read the manual and install that thing? Is there a more frightening moment than the one when you take your tiny child — that you're now in charge of keeping alive — out of the safety of the hospital and place him into the car seat you're certain you've installed wrong?
Car seat paranoia is real, and someone has finally invented something to help: a self-installing car seat. Yup, you read that right. This is not a dream. The future is here — and it looks like a car seat with its own smart phone app. 4moms brings you the self-installing car seat, and for a $499.99, it can be yours.
"We've built a robot in the base of the car seat so that it installs itself, is never installed incorrectly, and every time you put a child into the seat it verifies the installation," says Rob Daley, 4moms CEO and co-founder. It looks like all you do is attach the fancy high-tech base to your car's latch system, and your $500 robot does the rest: the base auto-levels, auto-adjusts the tension, and flashes a very comforting display that tells a new parent everything is A-ok before they place their child in the seat.
Latches connected! Base installed! Carrier installed! Great! There's an app that continuously monitors and checks seat status while the carrier is connected. From Parents, "The car seat has been certified by the National Highway Traffic Safety Administration and fits babies from 4 to 30 pounds and up to 32 inches long. And get this—according to Daley, it will monitor your infant's growth, and alert you when your kid has outgrown it."
It truly takes the guess work out of the infant car seat, which is amazing if you can afford to drop 500 bucks on a seat that you'll use for a year. For that kind of money you should be able to remove the "robot" from the base and transform him into your personal assistant. Or at least a Roomba.
Get on it, 4moms.