Meeting An Internet Stranger To Buy Or Sell An Item? Do It At A Police Station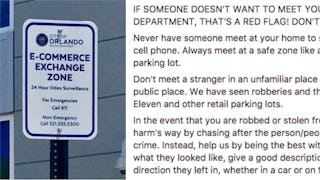 Image via Facebook/Orlando Police Department
Buying or selling stuff to a stranger? Read on
Whether it's to clear space in your home for the influx of gifts coming on Christmas or Hanukkah, or to make a little extra cash to put toward a holiday celebration, this is a popular time of year to donate, sell or give away old things. But if you turn to an e-commerce site like Craigslist, OfferUp or Facebook Marketplace, there are some tips to keep in mind to make sure you stay safe for the holidays.
The Orlando Police Department posted a little reminder to Facebook that we could probably all use. Theirs was specifically about selling phones on e-commerce sites, but the safety tips they wrote could apply to selling anything.
"Selling your used phone on an e-commerce site? Beware!" they wrote. "Criminals are looking to take advantage of those selling their phones using e-commerce sites such as OfferUp and Facebook Marketplace. If you are selling anything online, here are some tips to stay safe."
The first tip is a really handy one: "Use E-Commerce Exchange Zones like the one at Orlando Police Department Headquarters (or use our lobby during business hours). Many Police Departments either have spaces like this, or welcome these exchanges in lobbies."
The department adds, in all caps for extra emphasis, "IF SOMEONE DOESN'T WANT TO MEET YOU AT THE POLICE DEPARTMENT, THAT'S A RED FLAG! DON'T DO BUSINESS WITH THEM."
"Keep in mind that criminals are looking to commit crimes of opportunity. It's never a good idea to invite someone to your home to exchange items – especially for smaller items which can be easily transported. The best thing to do is find a local law enforcement agency and make the exchanges there," Michelle Guido, Orlando Police Department's Public Information Officer, tells Scary Mommy. "If someone is wary of meeting you at the police department – that should be a red flag."
This may seem like a no-brainer, but a police station is the best possible place to meet a stranger from the internet for a sale. There are people around who can make sure the exchange stays safe, and like the Orlando Police Department notes, many police stations across the country have exchange zones that are monitored by round-the-clock video surveillance for this exact purpose. And if the person you're selling to or buying from doesn't want to meet at a police station, that's obviously a pretty huge red flag to not complete the transaction. Probably better to find a new buyer/seller if that's the case.
The post continues, "Never have someone meet at your home to sell something portable like a cell phone. Always meet at a safe zone like a Police Department lobby or parking lot. Don't meet a stranger in an unfamiliar place – even if it seems like a public place. We have seen robberies and thefts of e-commerce in 7-Eleven and other retail parking lots."
It's true. Even somewhere like a grocery store parking lot may seem like a safe place to carry out a sale, but is it actually? You could still be robbed in a public place, especially one that's public but also somewhat vast and isolated, like a parking lot. Best to avoid those, for sure.
The post ends with one last bit of advice for those who have already had the unthinkable happen.
"In the event that you are robbed or stolen from, don't put yourself in harm's way by chasing after the person/people who committed the crime," it reads. "Instead, help us by being the best witness you can be. Remember what they looked like, give a good description of their clothing, what direction they left in, whether in a car or on foot."
Being a good witness will definitely help in the event of your items or money being stolen, but being aware of your safety from the start can hopefully avoid it happening altogether. If possible, do as the Orlando PD suggests and meet at a police department so the chances you'll be robbed during an e-commerce exchange are a lot lower.
With these tips in mind, hopefully the holidays will be a happy — and safe — time for all.
This article was originally published on