Selma Blair Shares Sweet Message About Friendship With Sarah Michelle Gellar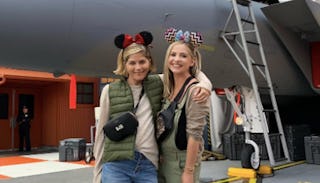 Image via Instagram/Selma Blair
Selma Blair and Sarah Michelle Gellar are #FriendshipGoals
Any millennial worth their salt knows Selma Blair an Sarah Michelle Gellar go way back — who could ever forget their iconic Cruel Intentions performances? Which is why it's utterly delightful and completely heartwarming to see their friendship going strong 20 years later. Even more so when you read Blair's thoughts about their trip to Disneyland together with Blair's son.
Initially, Blair shared a photo of Gellar pushing her around the park in a wheelchair — it was a candid photo a fan likely snapped and then posted on social media. She ultimately took it down because she didn't "own" the photo, but captioned a loving message about her friend on a follow-up photo.
"This friend, made sure my kid had the best spring break memory with all of us," she writes about Gellar. "And so I am grateful to mobility aids to make it possible. And the best friends to push. And to teach a kid, there is a person in the chair."
The original photo showed her son Arthur, enjoying a ride on his mom's lap. It's actually a very sweet moment that shows three people who all seem to love each other and the Disney scene very much.
https://www.instagram.com/p/Bvo5ZC0nle-/
The group of them spent some time exploring the park earlier this week for a spring break trip with Blair's son, Arthur, and Gellar's kids. And it looks like the whole group had a blast, tbh.
Last fall, Blair shared with the world that she had been diagnosed with multiple sclerosis: "I am disabled. I fall sometimes. I drop things. My memory is foggy. And my left side is asking for directions from a broken gps. But we are doing it. And I laugh and I don't know exactly what I will do precisely but I will do my best."
According to the National MS Society, multiple sclerosis involves an immune-mediated process in which an abnormal response of the body's immune system is directed against the central nervous system (CNS). The CNS is made up of the brain, spinal cord and optic nerves.
While the diagnosis itself is likely a lot to process emotionally and physically, the most heartbreaking part of Blair's MS journey was just how long it took for her to actually get diagnosed. "I have had symptoms for years but was never taken seriously until I fell down in front of him trying to sort out what I thought was a pinched nerve," she says. "I have probably had this incurable disease for 15 years at least. And I am relieved to at least know."
Earlier this year, she showed up to the Vanity Fair Oscars party looking jaw-droppingly fabulous and confident as hell.
"So this was a streak of light," she wrote at the time. "To say I am here. I am still in an exacerbation so there was some nervousness. I don't do anything the way I was once able. I will though. I can regain much."
Our real-life Scary Mommies, Keri and Ashley, spill the tea with Andy Cohen and commend Selma Blair with the Crushing it Crown in this episode of our Scary Mommy Speaks podcast.
This article was originally published on