Selma Blair Writes Powerful Post About Her First Public Appearance With MS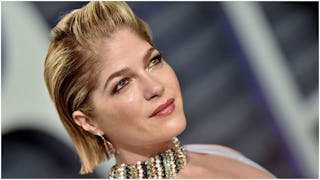 Image via Axelle/Bauer-Griffin/Getty
Selma Blair penned a beautiful post after her first public appearance with MS
If you haven't seen the pictures of Selma Blair at Vanity Fair's Oscars party, brace yourself, because she's unbelievably stunning. The actress, who was diagnosed with multiple sclerosis last year, looked like a complete queen with her flowing lavender cape, slicked back hair, and cane.
The actress later took to Instagram to share a powerful post about making her first public appearance since her MS diagnosis.
Blair posted a picture of herself walking down the red carpet, supported by Troy Nankin, her former publicist and best friend. She called him a "hero" and thanked him for wanting her to "shine brightly in a time that can be so challenging."
"He knew I wanted to be able to stand proudly as the woman I have become and hope to be," Blair wrote. "To be a part of something so special when my body won't move clearly yet…I felt the warmth of the bulbs. The strength of my gown. His attentive touch."
She went on to explain that her friend's support meant everything during that big night. "I sobbed," Blair said. "And I appreciated every single second. Every surprising tear, he was there. As he has always been. And that is the reason I could."
In another Instagram post, Blair wrote that she wanted a special cane for the evening. So, a few friends went to work to make sure that happened. One customized Blair's monogram and a pink diamond into the cane. Another bought patent leather and stitched it on. "I burst into tears," Blair said. "These gifts to get me through."
The actress also posted a portrait that was taken of her at the Vanity Fair party and it is truly something else.
Blair's red carpet appearance didn't go unnoticed. Many, many people took to Twitter to thank her for representing MS in such an important, public way. The disease affects a staggering 2.3 million people worldwide and it's at least two to three times more common in women than in men.
On Tuesday morning, Blair spoke with Good Morning America's Robin Roberts and opened up about living with MS. "I had tears," she said, looking back on the day she was diagnosed. "They weren't tears of panic, they were tears of knowing that I now had to give in to a body that had loss of control and there was some relief in that."
Blair also discussed raising her 7-year-old son Arthur, who she wants to "feel safe, never responsible for me." She noted: "My son gets it and now I've learned to not feel really guilty."
The actress told Roberts that she'd like to reunite for another interview in 2020, when her doctor believes that she'll have 90% of her abilities back.
"No one has the energy to talk when they're in a flare-up, but I do because I love a camera," she quipped.