Selma Blair Shares Emotional Update About Her MS Treatments: 'I Am Immunocompromised'
by Leah Groth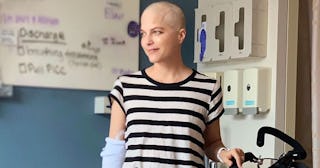 Selma Blair/Instagram
"No kisses please," she wrote in her latest health update
Since first revealing her multiple sclerosis diagnosis in October, Selma Blair has been totally transparent about what it is like to struggle with a chronic, debilitating illness. The actress and devoted mother-of-one's vulnerability has been nothing short of beautiful as she details what it is like to parent with a disability, the hardships of undergoing treatment, and her excitement in discovering new gadgets and tools that make her life with multiple sclerosis a little easier.
This week, after her heartfelt interview with People hit the newsstand, Blair shared another tear-jerking Instagram post after undergoing an experimental treatment. Posing in front of her beloved Alinker bike in a hospital room, showing off her new freshly shaven head, the actress offered up her health update.
"Today is a banner day. I am being discharged from the care of an incredible team of nurses and techs and a visionary Dr. who believes in my healing as much as I do," she wrote in her Instagram post. "This has been a process. And will continue to be one. I am immunocompromised for next three months at least. So no kisses please. I wanted to make sure all complications here were my private space. And we got through brilliantly."
"I thank you all for your love and support and that extra dose of great with a @people cover. I see things so much more clearly now. And I am excited to share this journey when I am ready. For now, I have recovery."
While Blair has been putting on a brave face, she explained to People that she has been experiencing "constant weakness and fatigue" and feels like "throwing up all the time" in addition to spasmodic dysphonia, a weakening of the vocal chords that makes her voice waver and tremble.
She also revealed to the magazine how her condition has impacted her son, Arthur. "He's had to endure a lot; he's seen a lot," Blair said, adding that he has seen her fall down stairs and rush to the bathroom when she is feeling sick.
https://www.instagram.com/p/B0VScVKnu7o/
But instead of thinking she is weak, her son sees her for the super strong badass that she is. "He says, 'Mommy's not sick. Mommy's brave,'" Blair says. Which is a total understatement, because Blair is basically a superhero. And her outlook on her situation proves it. "This is it. The only life we get," she says. "My disease isn't a tragedy, but I tell myself, 'You're going to live in a way that would be an example for yourself and your son.'"
Selma, thanks for taking us on this journey with you. You are such an inspiration, and we couldn't love you any more.
This article was originally published on