Selma Blair Offers Advice On Self-Isolating: 'Being Vulnerable Is A Form Of Strength'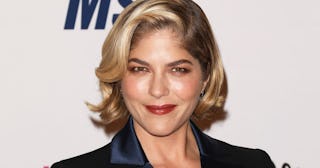 Paul Archuleta/Getty
Selma Blair shares how quarantine life isn't too much of an adjustment for those with chronic illness
Selma Blair first opened up about her multiple sclerosis (MS) diagnosis on Instagram back in 2018. The Cruel Intentions star shared that she'd been experiencing MS symptoms for years. In her post, she emphasized that she hopes "to give hope to others. And even to myself." Ever since, Blair hasn't shied away from sharing her experience with her 2.2 million followers on Instagram. This week, on Miley Cyrus's Instagram Live show, "Bright Minded," Blair spoke with the musician about what it's been like dealing with the COVID-19 crisis while living with an autoimmune disease.
"I've pretty much been in isolation for for two years because my physical issues make it harder to get out, harder to speak, all of these things. Now everyone's on this same daily trajectory I'm on," Blair said.
https://www.instagram.com/p/B-WFCiRHKxK/
Offering advice for those who are panicked, anxious, and scared about their current situations (and what's to come), Blair states that this vulnerability people are feeling right now should really be looked at as a superpower. "This moment is what we have, (even though) we hope for more. Being vulnerable…is a form of strength to me and has helped me for other people to shoulder stuff when I've been nervous." She suggested to "really take this opportunity to be the best you (that) you can be to help your days along."
While this kind of advice is sometimes easier said than done, it's still especially powerful coming from an individual who has essentially had her life turned upside down and has had to adjust, make sacrifices, and come to peace with her new reality. Although Selma Blair is lucky and privileged to have the resources that she does, it doesn't erase the fact that she's been forced to learn how to live with debilitating side effects of her illness, along with ongoing treatments and medications. Through everything, Blair has used her platform to inform and educate people on chronic illness, and makes people who are going through a similar experience feel less alone. And during these scary times in which we find ourselves isolated and worried, it helps to hear from someone like Blair, who has made the best out of a situation that has already involved constant isolation and worry.
https://www.instagram.com/p/B9Cej-dHYh1/
"There has not been one minute that I have felt sorry for myself… I just really look in the moment. We're all doing what we can to enjoy this and help our children or parents or neighbors," Blair said.
In terms of making the most out of self-isolating, Blair brought up finding the "gift" in having to stay home, and how she's spending that time with her 8-year-old son, Arthur. Blair told Cyrus, "This is an incredible time for me. I'm home, and to have my son home and to be able to have people understand… there's just nothing that gets me mad for long anymore, and it hasn't for a couple years." Blair added that the two have dance parties at midnight if "he'll be seen with me, alone in my house," she joked.
The actress is also keeping things light and treating this time as a way to unwind for both herself and her son—and that means no rigid schedules. "Unlike most other moms, I don't keep a schedule right now with my kid. This is Woodstock, enjoy it! Kind of anything goes at this point," Blair joked.
Although Blair is worried for those around her, people who are in the front lines fighting the spread of the virus and those who are facing economic instability, she doesn't stress about her own life anymore. "I'm a middle-aged woman with an incurable disease and it doesn't even matter… I just don't worry anymore," and added that she does her best to tone down any negative thoughts that come her way.
We applaud Selma Blair for not only her honesty, but her heartfelt advice that many of us need right now.