Senate's New Health Care Bill Royally Screws Pregnant Women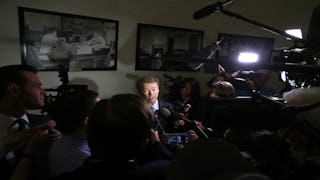 Image via Getty
Senate Republicans finally unveil their big Obamacare replacement bill, and you can tell it was written by a bunch of men
Yesterday, the Senate released a draft of their bill to repeal and replace The Affordable Care Act and, predictably, it's terrible for women's health. Titled "The Better Care Reconciliation Act" (better for whom, exactly?), the bill makes it increasingly difficult for women to access essential health care like birth control and maternity coverage. Not surprisingly, the bill was written by 13 men.
The Affordable Care Act improved women's access to health care nationwide by expanding birth control access and making maternity care a requirement for many insurers. Most notably, the ACA granted Medicaid access to more people than ever before. Medicaid's pregnancy-related coverage currently covers women whose household income is at or below 133% of the Federal Poverty Level. These women are entitled to Medicaid under the coverage category for "pregnancy-related services" and "conditions that might complicate the pregnancy."
Right now, Medicaid pays for almost half of all births in the United States. That is a huge number of women, babies, and families who directly benefit from Medicaid coverage.
Which brings us to the Better Care Act (ugh, that name). Basically, the primary focus of this bill is cutting spending on health care access for poor people. It aims to phase out Medicaid expansion by 2021, but that's not all. Republicans want to decrease Medicaid access by allowing states to allot fixed sums of money to everyone who enrolls.
This means fewer women will have access to Medicaid services, which means fewer women will then have access to reproductive services like cancer screenings, laboratory tests, birth control access, and post-birth health care. Hospital care, newborn care, prescription medicine — none of it is guaranteed under the new bill. A direct contrast to the ACA and its marketplace provisions.
If this bill passes, it means that women who use Medicaid as a primary health insurance provider can't go to Planned Parenthood for health and reproductive services and expect to be covered.
In a Facebook post yesterday, President Barack Obama attempted to reach out to Senate Republicans and encouraged them to put the well-being of Americans over partisan politics.
"The Senate bill, unveiled today, is not a health care bill. It's a massive transfer of wealth from middle-class and poor families to the richest people in America," he wrote.
"To put the American people through that pain – while giving billionaires and corporations a massive tax cut in return – that's tough to fathom. But it's what's at stake right now. So it remains my fervent hope that we step back and try to deliver on what the American people need."
If all of this doesn't terrify you enough, please understand that this revised version of the God-awful House bill might just pass. We didn't think Donald Trump would become President of the United States, yet here we are. We didn't think the discriminatory, alternate universe Robin Hood-ish House bill would pass, yet here we are.
The time to fight these men and their dangerous, anti-women legislature is now. Call your senators and make your voice heard before innocent women and children suffer and potentially die just because they're poor.
This article was originally published on