A Mississippi Senator Joked About Going To A 'Public Hanging'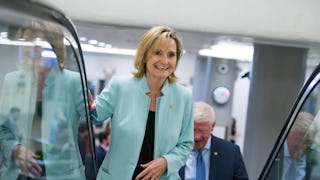 Image via Tom Williams/CQ Roll Call
This is apparently Sen. Cindy Hyde-Smith's idea of an OK joke
Republican Senator Cindy Hyde-Smith, who's facing a runoff election in Mississippi later this month, was caught on video at a campaign stop Nov. 2 where she joked about attending a "public hanging." Yes, really.
At her rally in Tupelo, Mississippi, Hyde-Smith responded to a supporter who made a speech praising her by saying, "If he invited me to a public hanging, I'd be on the front row." Bayou Brief reporter Lamar White Jr. caught the awful moment on camera and shared it on social media over the weekend.
Honestly, what kind of person living in the year 2018 could possibly think this is an OK joke to make? And especially in Mississippi, a state with a long history of slavery, segregation, Jim Crow laws and other, various forms of racial injustice. As the Jackson Free-Press reported, Mississippi also has a terrible history of public lynchings.
"Across Mississippi, 654 lynchings were reported in that period [between 1877 and 1950], including two in Lee County, where Hyde-Smith's comments were made. Lynchings — extrajudicial mob justice used to intimidate African Americans — were usually done by hanging, often in front of crowds of joyous whites who even mailed postcards with lynching photographs to friends and family," the paper reported.
What makes this even worse (if that's even possible) is that Hyde-Smith's opponent in the Nov. 27 runoff election in their state is Democrat Mike Espy, the first black person elected to Congress from Mississippi since reconstruction. Yes, this happened in a state where it took until 1987 for a black man to be elected to Congress. Espy also served as the first ever black Secretary of Agriculture under President Bill Clinton.
In a statement released Sunday evening, Espy condemned Hyde-Smith's remarks.
"They have no place in our political discourse, in Mississippi, or our country," he said. "We need leaders, no dividers, and her words show that she lacks the understanding and judgment to represent the people of our state."
And Hyde-Smith released a statement of her own, basically saying it's ridiculous to construe her comments as racially motivated in any way.
"In a comment on Nov. 2, I referred to accepting an invitation to a speaking engagement," she said. "In referencing the one who invited me, I used an exaggerated expression of regard, and any attempt to turn this into a negative connotation is ridiculous."