Georgia State Senator Arrested For Demanding All Votes Be Counted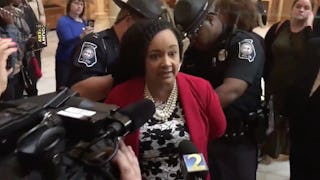 Image via Adam Murphy / CBS / Twitter
Senator Nikema Williams was part of a protest demanding all of Georgia's midterm votes be counted when she was arrested
Several midterm election races in Georgia are still undecided as the state grapples with provisional votes that incumbent Governor Brian Kemp (himself still locked in an undecided race) says are invalid. Tuesday, a protest broke out at the State Capitol where demonstrators demanded that every vote be counted in several tight, contested races. More than a dozen people were arrested, among them State Senator Nikema Williams.
Video taken at the protest showed signs proclaiming Stacey Abrams to be Georgia's governor. She's the Democrat who's challenging Kemp, who's accused of unconstitutionally striking hundreds of thousands of registrations from Georgia's voter rolls, many of them Democrats, poverty-stricken, and people of color, and many of them in districts that were projected to vote for Abrams.
In the eight days since the election, several lawsuits have been filed in Georgia over votes that Kemp says don't count. Protesters are demanding that all votes be counted, including provisional ballots that were cast by people who showed up at the polls to learn they were suddenly no longer registered to vote.
Williams was taken with the other arrested protesters to Fulton County Jail, where she bonded out and was met outside by a small crowd of supporters, local news outlets reported. People on Twitter are responding to the arrest by wondering if it was racially motivated.
"I joined them down on the floor and I was singled out as a black female senator, standing in the rotunda with constituents in the Capitol, in the body that I serve in, and I was singled out and arrested today for standing with so many Georgians who are demanding every vote be counted," Williams later told reporters. When asked if the arresting officers knew she was a State Senator (not that it matters, since she was among people demonstrating their First Amendment right to protest), she replied, "I wear my name tag every day in the Capitol."