You Can Send A Vibrator To Your Congressperson To Let Them Know The Health Care Bill Blows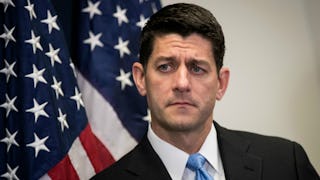 Image via Win McNamee/Getty Images.
'Vibes for Congress' will donate 75% of all sales to Planned Parenthood.
Sick of calling your congressperson every day to remind them not to kill you via the GOP health care bill? Well, now there's a very memorable way to let them know that the proposed law blows: send them a vibrator. Oh yes, you did read that right. "Vibes for Congress" will mail your representative a new vibrator with a pamphlet on women's health since so many of them obviously need a refresher course.
The best part is that 75% of the funds raised through the program will go to Planned Parenthood, which faces deep cuts if the Republicans pass their insane bill. It isn't just PP that would be massively hurt under the proposed law titled "The Better Care Reconciliation Act." It's almost all women since Medicaid's budget would be slashed, millions would lose health care in general, and birth control and maternity coverage would be even more difficult to access. It's pretty clear the bill was written by 13 men who don't give a f*ck about anything except tax cuts for the super rich. Thanks to "Vibes for Congress" we can remind our elected officials that a health care bill shouldn't be about saving billionaires even more money.
Can you just imagine how uptight the Republicans are going to be when vibrators start showing up at their office? Unbound, known for their diverse selection of adult toys, launched the program last week. "The initiative is meant to shed a light on the importance of women's health in the face of changes that would threaten it, while demonstrating that women will not stay silent in the face of such dire risks," an Unbound spokesperson told HuffPost. Folks who want to participate can send a $15 vibrator along with the educational brochure to their rep in less than five minutes.
Just type in your zip code, and your selection of congresspeople will come up. From there you're just a credit card away from reminding politicians that they're meant to help citizens not nearly kill them by restricting access to basic things like doctors, hospitals, and medicine. Both of my reps are badass ladies who have spoken out against the bill, but maybe you live in a state where that's not the case. If so, send a vibrator and, like the Unbound folks said, "bring attention to an often shadowed area in the hopes of raising awareness for the millions of women who are currently at the mercy of government's pending legislation."