Elderly Couple Found Dead In Murder-Suicide Left Note About High Medical Bills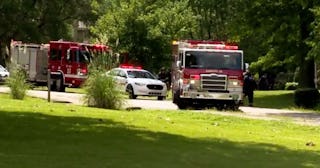 WKRN
Ongoing medical costs appear to have been a factor in this tragic murder-suicide
A senior husband and his wife died in an apparent murder-suicide in Washington state earlier this week, and an ongoing medical condition and high medical bills appear to have been a factor in the tragedy. The 77-year-old husband called 911 on Wednesday to tell them he planned to die by suicide, according to the local sheriff's department.
According to the Whatcom County Sherrif's Office, the husband indicated that he had prepared a note for the sheriff for when he discovered the incident. Dispatchers tried to keep the man on the line, but were unsuccessful.
"Deputies arrived at approx. 0838 hours and set up a perimeter around the house," the sheriff's office says in a Facebook post. "A crisis negotiator attempted to contact occupants of the home via phone and loud hailer for about 1 hour. After an hour, Deputies deployed a robot mounted camera. The man was found deceased from an apparent gunshot wound. He was lying next to his wife, age 76, who was also deceased from an apparent gunshot wound."
They then found both the husband and his wife, 76, dead inside. Authorities are officially investigating the case as a murder-suicide.
The responding officers found several notes that cited the wife's ongoing medical problems and concerns about the couple's finances and inability to conjure sufficient resources to cover the medical care she required. The couple had left next-of-kin information as well.
It's all utterly and completely heartbreaking that two seniors were so completely encumbered by medical debt and stress, they felt there was no alternative way out. The current state of the American healthcare system leaves a lot to be desired when it comes to quality, affordable care for every citizen — especially the nation's most vulnerable.
Healthcare costs are at an all-time high in the U.S. At more than $10,000 a year per person, and nearly 18 percent of all goods and services, health care in America consumes roughly twice as much as it does in other well-off countries. For example, the U.S. has the world's highest spending on pharmaceuticals — $1,443 per person. The average for all 11 prosperous countries included in the study is only $749. It's no wonder people feel the crushing burden of medical costs every day in this country.
Currently, police are not releasing the names of the couple at this time. Two dogs that were found alive and well inside the house were taken to a local humane society. Multiple firearms were also found inside the house.
"It is very tragic that one of our senior citizens would find himself in such desperate circumstances," Sheriff Bill Elfo said in a statement.