Senior Couples Pose For Breathtaking 'Engagement-Style' Photo Series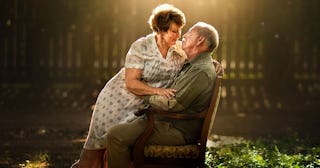 Courtesy of SUJATA SETIA/BUT NATURAL PHOTOGRAPHY
A London-based photographer is changing the way older adult couples see themselves
Social media photography is often saturated with images of happy couples, just on the cusp of romance or marriage, sharing their love via carefully posed and cultivated engagement photos. One London-based photographer wanted to capture a similar image, but with a twist: she asked long-married senior couples to pose instead.
Sujata Setia of But Natural Photograhy runs photography workshops all over the world. She recently told HuffPost that she seeks out senior couples to pose for "engagement-style photos" for them to keep, and that they're usually surprised at the request.
"It's just the pleasant shock of never, ever imagining that someone would ask them to pose like a newly married couple at 80 years old," Setia says.
The resulting photos are, in a word, breathtaking. There's something exceptionally beautiful about witnessing several decades of love between two human beings come alive in a photo.
"I've been photographing them [senior couples] for nearly a year now," Setia tells Scary Mommy. She says it began as a "passion project" inspired by her own memories of her grandmother, so she started taking beautiful photographs of grandparents and grandchildren. While taking those photos, she was struck by a new idea.
"On one of such shoots when I saw that one grandparent would be quietly waiting in a corner while I photographed the other with the grandkid, I decided to invite both of them to be photographed together."
And truly, these photos are stunning. You rarely see loving, lifestyle portraits of seniors in general. To see them with the partners they've lived with and loved for many years will make anyone's heart grow ten sizes.
Setia says she instructs them to just "hold hands and kiss" when posing for her. She says the shoots themselves are always full of bashful laughter.
Growing older is no easy task. When you reach the age of many of these people, life becomes less about capturing moments like these and can get wrapped up in stigma and ageism. We tend to infantilize older adults (even our own parents) and we often confuse "honoring" them with condescending to them. It's likely extremely frustrating to grow old in our current society, where people forget that senior citizens have sharp minds and active personal lives.
Photos like these are profound in that they show what life can really look like if you're lucky enough to grow old with someone you love.
"It's been an incredibly fulfilling creative journey," Setia says. "Just gives me hope that everlasting love actually exists."
This article was originally published on