Senior Living Center Posts Heartwarming 'Back-To-School' Photos Of Residents
by Julie Scagell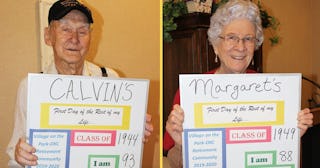 Village on the Park - Oklahoma City/Facebook
Retirement home seniors share their inspiring take on 'first day of school' photos
As August comes to a close, we are smack dab in the middle of "back-to-school season." Parents are sharing photos of their little peanuts, many holding signs announcing what grade they'll be in, their favorite activities, and what their hopes and dreams are for the year ahead. One nursing home in Oklahoma City decided their residents deserved the same treatment so they made signs with their ages and hopes for the new year — and they are as heartwarming as you'd imagine.
"Everyone is posting 'First Day of School' pictures and Village on the Park wanted to be part of the fun!" the independent retirement and assisted living center wrote on their Facebook page. "These beautiful 'Seniors' are living their BEST life and we can learn from their wisdom everyday!"
The residents each held signs with their names, graduating class year, age, and their goals for the year. Many wished to see another year or to get their health back. Some of their "goals" seemed tailor-made to make us cry, like Mary — who wished to be able to remember people's names; or Fran, who wants to go home; or Leon, who would like to finally ride a horse at age 91. Many have the same hopes as all of us — to be caring, to see family and friends, enjoy life, or retire and "go on vacation."
Their answers were as diverse as the people filling them out, all with stories about their past and relatable visions for their future. My grandma just turned 95 and lives in the house she's owned for 65 years, and she mostly looks forward to watching the Cincinnati Reds on TV and getting her hair "in a permanent" once a month. She's happy and appreciative of her health, her family, and seeing another day — simple things that we should all be thankful for.
These amazing folks are also not letting things slide in their golden years. Many want to be more physically fit, to spend more time reading and playing BINGO, and to lose weight. (Girl, you're 80-years-old and looks fantastic, just eat the damn donuts!) The pictures are a reminder for all of us to embrace life, be happy with what we have, and always set goals for ourselves to improve.
Since their pictures have gone viral, people have asked how they can help make some of the resident's wishes come true. The facility shared online that they are "in the process to coordinating a horseback ride for Leon, a picnic for Glendora and many more exciting things!" and if anyone wishes to send the residents letters they can write the center using the names on their boards, addressed to 1515 Kingsridge Dr. Oklahoma City, Ok 73170.
I don't know about anyone else, but these are my favorite back-to-school pictures of the year.
This article was originally published on