The Senior Year: The Work Of Necessary Separation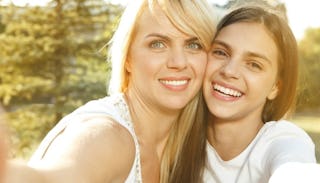 Nestor Rizhniak / Shutterstock
This is the final installment of a series in which a stay-at-home mom chronicles her youngest daughter's senior year of high school and the college admissions process. She also relates her parallel journey as she prepares for an empty nest and considers what to do with the rest of her life now that her stay-at-home job is ending. Read the first, second and third installments.
There's work involved in going off to college, of course. There are the applications, the asking for recommendations, the gathering of SAT and ACT scores. But there's also the emotional work for both parent and child—the necessary work of separation.
Regardless of where you and your teen are in your relationship—peaceful, full of strife, annoyed occasionally but mostly friendly, or best of friends—you and your soon-to-be college freshman are going to have to separate from one another, whether you like it (or look forward to it!) or not.
I've been thinking a lot about separation lately since my younger daughter and I are about to do it.
Separation with my older daughter wasn't hard. She was always the independent sort, asking to go to sleepaway camp at 9, off somewhere every summer starting at 10. Her junior year of high school, she spent her entire spring semester abroad, halfway around the world. When she chose a college five and a half hours away, I didn't blink. She would be fine. Since she's been in college, she's been home for just a few holidays and only one of three summers. I applaud and support her independence. She's getting ready to graduate from college this coming spring, and I assume she is going to be off somewhere in another city next year. I don't expect that she'll ever live at home again. Still, we have a good relationship. We talk or text a couple of times a week, and I feel like I know what's going on with her for the most part. But she makes all of her decisions independently and lets me know about them later. This is exactly how I think it should be; as a parent, my goal is to produce independent, self-sufficient, capable adults.
With my younger daughter, though, the work of separating feels harder. It feels more challenging. It feels more worthy of thought. This is the girl who arrived five days late and who had to be coaxed and then finally pulled from my body. This is the girl who insisted on a night-nursing at 4 a.m. until she was almost 1 and never once in her first year took a bottle. This is the girl who hated to go to preschool. This is the girl who gave up on sleepaway camp and likes her own bed in her own house. This is the girl who still likes to curl up with me at night to tell me everything that's happened to her during the day. This is the girl who looks to me to help her make decisions, though I'm insisting to her that she will choose her own college without my input. Sometimes we both kind of laugh at how much she wants (or needs) to tell me.
She started her senior year recently. I'm used to getting text messages from her throughout the day, between classes or at lunchtime, sometimes both. One day last week, I didn't hear from her at all—not once during the school day or on the bus on her way to work. I didn't see or talk to her until she got home at 5:30 that evening.
I deliberately didn't text or call her that day, though I definitely thought about it. I was so curious about her day. How had she found her new classes, her teachers? Whom had she sat with at lunch? Had she received any crucial "senior" information—about pictures or her cap and gown order—that I would need to take care of? Had she decided what to do about that class she was on the fence about dropping?
This—the lack of communication—is the work of necessary separation for both of us, I know. A whole day without communication is a good thing, a thing to be cherished, a thing to be applauded. It's a sign that soon she will go on her way, and I will go on mine. It's required. If she is to grow into the adult who I want her to be—confident (or at least feigning confidence when she needs to), capable (or at least not incapable) and powerful (in her own way, whatever that is)—then she needs to be encouraged to go a day without getting in touch with me, even though I am always right here, silent, as she goes about the business of growing up.
So as important as those applications are, as important as the standardized test scores are, as important as the recommendations are, don't forget to do the separation part. Practice for next year. That's the part that really, in the end, counts the most. At least that's what I remind myself when it feels weird.
This article was originally published on