A Sensory-Friendly Easter Bunny Is Visiting Malls Across America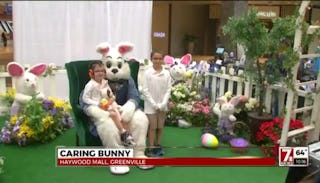 Image via WSPA
The "Caring Bunny" supports kids who get overwhelmed by busy malls
Visiting the Easter Bunny at the mall is a holiday tradition for many families, but for some kids it can be overwhelming. Crowds, mall music, fountains, escalators – there's a lot going on at once. Children who have autism or other special needs often bow out from these traditions because it's sensory overload. But this week some malls are literally turning down the noise and creating a more sensory-friendly event.
On World Autism Awareness Day, April 2, families are invited to take part in more private (and less chaotic) Easter Bunny photo ops at participating malls across the country. Autism Speaks partnered with Noerr Programs Corportation to create the "Caring Bunny" encounter as way to help more kids connect with the Easter Bunny in a special way this holiday season.
The Haywood Mall in Greenville, South Carolina, got a head start on the experience this week and already it's been a success. A mom of a 7-year-old told WSPA that she drove nearly two hours for the experience. "Because he won't do it with the general public of the mall. He hasn't for years. We finally came and got him to sit with Santa this year for the first time. They sent an email, 'we're coming back with the Easter bunny.' I made the reservation immediately," Kelly Hunter said with tears in her eyes.
Instead of being left out of the Easter Bunny experience all together, families are finding that the Caring Bunny provides a chance to take pictures and make beautiful memories. "The goal is to get that great one-on-one picture that you can cherish for the rest of your life," Sarah Brocker with the Haywood Mall said.
The experience is open to anyone that has children who may require extra sensory care, physical support, and developmental support. There are several considerations taken during this experience including: the mall will turn down the music, dim the lights, and turn off fountains and escalators. To eliminate queue lines a bit the malls will employ a numbering system and they'll provide special "wait" activities to the children.
It's a nice feeling for these families who want the moments and the pictures, not to mention the photos are perfect for sending to grandparents, aunts, uncles, and cousins. Some families who've already participated are posting their photos on Instagram with the hashtag #caringbunny and they're precious.
Almost 100 Simon-managed malls are participating in the Caring Bunny and the list is on the Autism Speaks website.