Chuck E. Cheese's Offers Sensory-Friendly Sundays Throughout U.S. And Canada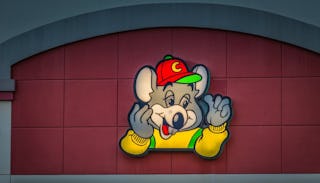 George Sheldon / Shutterstock
Five months after partnering with the Center for Autism and Related Disorders (CARD) to launch a sensory-friendly event at its fun zone in Attleboro, Massachusetts, Chuck E. Cheese's is bringing its "Sensory-Friendly Sunday" program to 355 locations throughout the U.S. and Canada.
After launching its pilot program, Chuck E. Cheese's expanded the event to an additional 54 locations throughout the Northeast. After a successful three-month run, the company announced it will expand the program even further beginning on World Autism Day, Sunday, April 2.
"Our tagline is 'where a kid can be a kid,' and we want to ensure we extend this ideal to kids who otherwise may not be able to enjoy Chuck E. Cheese's due to the sensory overload," Ami Anderson, senior director of advertising and media at CEC Entertainment, said in a press release. "We're excited to be able to offer this program nationally beginning next month, with an exceptional leader in the autism field like CARD."
The event is held the first Sunday of every month, from 9 a.m. to 11 a.m. — two hours before the restaurant opens to the public. For that time, lights will be dimmed, crowds will be smaller, music and performances will be either quiet or canceled and appearances from costumed characters will be limited.
"I bring my own kids to our sensory days, and it gives not only our kids a chance to play in a calm, sensory-friendly and understanding environment, but also us parents time with our kids and like-minded, understanding folks," Stephanie Debarber, an assistant manager at Chuck E. Cheese's, who independently launched the company's first sensory-sensitive event in Glen Burnie, Maryland, told The Mighty. "All of the cast members we schedule for our events are understanding and want to be there. There is no better feeling as a manager than being there with parents and kids who are happy and genuinely want to be there with each other."
This post originally appeared on The Mighty.