My Marriage Is Over, But Nobody Is Moving Out
by Anonymous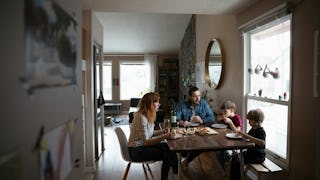 Hero Images/Getty
The details don't matter, but my marriage has been over for several months. This isn't obvious from the outside looking in; seemingly, nothing has changed. We are separated, but are still living together and plan to do so for a while.
Neither one of us could have predicted that after many years of marriage and multiple kids, our living situation would shift from following the roles of partnership to creating boundaries and maintaining a friendship outside of wedding vows. The truth is, we still need each other in some ways, so we are choosing to co-habitate.
First and foremost, we are parents to children we created together with love and intention. My spouse and I work two more-than-full-time jobs; we are constantly juggling schedules and making sure we know who to pick up where and when. The day revolves around meals, homework, extracurricular activities, and bedtime routines. The logistics of managing a family of five is hard enough in one home. We agreed that managing this between two homes was more than we wanted, needed, or can handle right now. It would not benefit either of us as individuals. It would not benefit the kids. It would not help any tension that still hangs between us at times, either. It just makes sense for us to run this ship while both of us are on it.
I am thankful that my spouse and I have always been on the same page in the way we want to raise our kids. We have worked hard to communicate discipline ideas, values we want to instill, limits to set, and expectations we place on our kids. We have always maintained a united front and will almost always back the other in front of the kids to model this. If my spouse and I disagree on a topic or have suggestions or criticism of the other, we voice these differences out of the kids' earshot. This is something that will continue. We recognize that this is challenging at times because of the undercurrent of stress that comes with separation, but our plan to stay focused on the kids has helped.
The presence of two parents at school functions, sporting events, and family outings will continue too. The love we have for our children will not be compromised because the love between us has changed. We are not staying together for the kids, but we can be there for the kids even though we are not together. Our kids will always keep us connected and we will continue to share our love and pride for them.
There is the financial piece too. It can't be ignored, and it did play a part in our decision. Our two-income budget is already tight. All of our accounts, credit cards, loans, and everything else is tied together. We just can't afford to split everything between two separate households and have it work. Half of what we have is not enough to support us as individuals. We need to think about the kids too. We need to continue to pool our money at this point because the strain of not doing this would create unnecessary resentment and anxiety.
Money earned has always been family and household money. We talk about and agree on big purchases and neither one of us are really spenders. The extras we pay for are usually for the kids, so there have not been arguments about inconsiderate or "unapproved" purchases. We are not selfish with our money. We respect each other to know that we each work really hard for the money we earn. It covers the basics and a few extras we don't take for granted.
And then there is the cooking, cleaning, yardwork, and maintenance of a house that feels impossible with two adults on most days; the idea of just one person doing these tasks while juggling single parenting and financial stress just doesn't make sense for us right now. I can't imagine it. Neither of us can.
We don't expect others to understand, but staying together in the same space though the marriage is over is more common than people think. Several places call this a parenting marriage. There is teamwork, mindfulness, open communication and respect without the romance and physical and emotional commitment of a marriage. We are working with a couples therapist to be sure we are forcing ourselves to have necessary conversations. The therapist's office also creates a safe space to have those conversations in respectful ways and to be sure both of us are getting some version of what we need. We will also have her help us navigate the idea of one or both of us dating when we get there.
There is too much shame put on people when their family or relationships don't look like what people think they should be. Single parents, queer parents, monogamous parents, polyamorous parents, step-parents, grandparents, foster parents. Does it really matter how people do family as long as kids are in loving, safe homes surrounded by adults who respect each other?
We are taking one day at a time. And just like we didn't predict where we are right now, I can't predict where we will be in a month or a year from now. But we are modeling to our children how to treat each other despite dealing with disagreements, big emotions, and scary unpredictability. We are leading with open communication and the understanding that shit will be hard at times. We are focusing on establishing a new normal while maintaining a family unit. Staying together, while we separate, makes the most sense for us right now.
This article was originally published on