Have You Checked Out Sephora's Sale Section Lately? You Must.
by Samantha Angoletta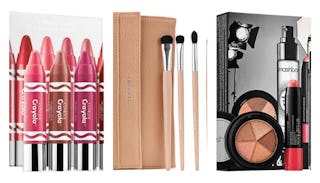 Sephora
I have to be careful opening up the treasure trove that is the Sephora sale section because I inevitably find things I am going to buy regardless of what my original plan was when visiting the site. I'm almost out of concealer, so I'm just going to replace that… is often how it starts.
But if you are wanting to try something new or opt into a higher-end skin care regimen, but refuse to pay full price? It's the best place to be.
Everyone went nuts for the Craylola and Clinque partnership, and now the gift set is half off ($12.50!):
If you want to try the new egg-shaped sponges, but don't want to fork over the $20 for one name brand (but very awesome) Beauty Blender, Sephora has you covered — $7 for six.
This Smashbox gift set is pretty much everything you need for spring and summer, and under $30. Sold!
If you wear eyeshadow, then having a good brush set is an absolute must. This set is half-off at $19, and highly rated.
And I honestly can't say enough good things about Josie Maran skincare. (Not sponsored, paid, or otherwise given anything free to say this.) The Surreal Skin finishing balm included in this set is amazing, and perfect for no-makeup days.
Of course, there's more goodies, but these are my current faves. It's like a garage sale for your face.
This post contains affiliate links, which means we receive a small portion of the sale if you make a purchase using these links.
This article was originally published on