Sephora's Sun Safety Kit Is Back, And We Are Obsessed (15 Items For $32)
by Samantha Angoletta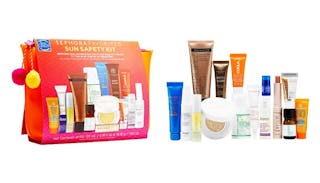 Sephora
I am such a sucker for the Sephora value sets. I love finding new products to try without plunking down the cash for full size until I know that it is something I will use regularly and won't leave me with monster chin zits.
I throw a big middle finger up at most sample sizes though. I can't accomplish a damn thing with .001 ounce of cream or three sprays of hair product. I have no idea if I love it or hate it, but I'm too annoyed to buy it, if that's all you've got to give me. Come on now.
I scooped up this Sun Safety Kit last year, and I knew I had to have it this year too. There's so much goodness in this package, and I can personally vouch for the Fresh Sugar lip balm and the AmorePacific cushion. I already love them. The cushion gives you just enough coverage without any effort (no blending or sponge needed) with some SPF protection. My favorite.
I take sun protection seriously these days. I am trying to make up for all the time I spent mistreating my skin in college when I frequented the tanning bed and opted out of wearing any sunscreen while I baked outside on a towel. Now? I won't walk by an open window without some SPF protection.
So, 15 items for $32? Sold. This looks like fun. Plus, my mom and grandma and best friend love it when I kick down my extras, and I bet you've got some folks who will appreciate a deluxe sample or two themselves. Spread the love.
Bonus: $20 from each purchase is donated to the Skin Cancer Foundation.
I'm told these things tend to sell out fast, so mine is already on the way.
This article was originally published on