Serena And Her Baby Girl Pose For The Cover Of Vogue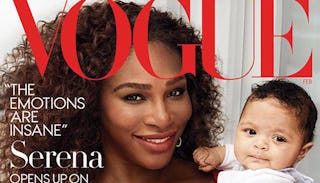 Image via Vogue
Serena Williams and her baby are together on Vogue's latest cover
Never has Vogue been equal parts so fierce, and so adorable. Serena Williams graced the cover of the magazine's February issue wearing a fire red dress, and with baby girl Alexis Olympia in tow.
In the feature, the tennis champion talked about all things motherhood, and opened up about the highest highs, and the very lowest of lows that have come along with being a new parent.
"Sometimes I get really down and feel like, Man, I can't do this," she said. "It's that same negative attitude I have on the court sometimes. I guess that's just who I am. No one talks about the low moments—the pressure you feel, the incredible letdown every time you hear the baby cry. I've broken down I don't know how many times."
Williams, who is engaged to Reddit co-founder Alexis Ohanian, added that being a mother has been a childhood dream, and only *half-seriously* suggested that she won't let her daughter leave her sight until she turns 18.
"Now that I'm 36 and I look at my baby, I remember that this was also one of my goals when I was little, before tennis took over, when I was still kind of a normal girl who played with dolls," Williams said.
For those of you who are missing seeing Williams slamming tennis balls on the court, don't worry. You'll get her back soon enough.
"To be honest, there's something really attractive about the idea of moving to San Francisco and just being a mom," the athlete told Vogue. "But not yet. Maybe this goes without saying, but it needs to be said in a powerful way: I absolutely want more Grand Slams. I'm well aware of the record books, unfortunately. It's not a secret that I have my sights on 25 [Grand Slam victories]."
If you're getting all verklempt seeing Williams as a new mom — and imagining her smashing some Grand Slam records — you're not alone. The tennis star took to Instagram to share how emotional it was to appear on the cover with her daughter.
"When I first saw this @voguemagazine cover it brought tears to my eyes," Williams wrote. "All Vogue covers are special but to share this one with my beautiful daughter @olympiaohanian also the youngest Vogue cover star makes it moment I will never forget."
Oh, and while you happen to be on Williams' Instagram page, there are so, so many other mother-daughter pictures that will fill you heart with all the feelings.
*Sigh.* Let's just give all the internet awards to Serena Williams and Alexis Olympia today.
This article was originally published on