Serena Finally Confirms The Pregnancy Rumors With The Sweetest Instagram Post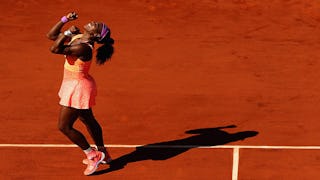 Image via Clive Brunskill/Getty Images
Serena Williams finally confirms the pregnancy rumors
Last week, Serena Williams posted a baby bump picture to Snapchat, simply captioned "20 weeks." The picture was quickly deleted. Her rep later confirmed that she was, in fact, pregnant.
"I'm happy to confirm Serena is expecting a baby this fall," Serena Williams' rep said, according to NBC Senior News Editor, Bradd Jaffy.
Today, Williams took to Instagram to make her first public post since the disappearing Snap.
"My Dearest Baby, You gave me the strength I didn't know I had. You taught me the true meaning of serenity and peace. I can't wait to meet you," her caption begins. "I can't wait for you to join the players box next year."
"But most importantly, I am so happy to share being number one in the world with you… once again today." Williams is referring to the rankings issued by the Women's Tennis Association today. Serena has once again soared to the number one spot. While 20 weeks pregnant. Because clearly we needed more proof that women are bad-ass creatures.
"On @alexisohanian bday. 😉 from the world's oldest number one to the world's youngest number one," she writes. That's right, today is her fiancé Alexis Ohanian's birthday. The perfect day to confirm the news. Ohanian is the co-founder of Reddit.
From her sweet words it's clear she's got the baby glow. And from her incredible accomplishment today of shooting back to the top of the WTA rankings, it's clear that women can do anything. In the words of the immortal Beyoncé, "strong enough to bear the children… then get back to business."