Serena Williams' Husband Shares Tribute That Has The Internet Is In Tears
by Cassandra Stone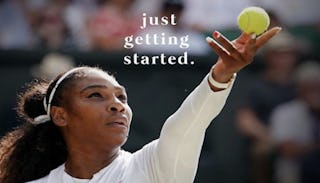 Image via Instagram/Alexis Ohanian Sr.
Serena Williams is still the G.O.A.T., as her husband proudly reminds us all
Alexis Ohanian, Serena Williams' husband, might be the proudest husband of all time. Despite Williams' Wimbledon loss, she remains one of the greatest athletes to ever grace this earth — and a champion on and off the tennis court, according to the emotional tribute Ohanian penned on social media.
This week, Serena Williams played her first Wimbledon since becoming a mom. Just ten months after giving birth and enduring a life-threatening surgery post-birth, she took to the tennis court like the all-star she is. Though she lost the title yesterday to fellow player Angelique Kerber, her number one fan wants her to know she's still a champion.
"Days after our baby girl was born, I kissed my wife goodbye before surgery and neither of us knew if she would be coming back," Ohanian's message begins. Grab a tissue for the rest — you've been warned.
"We just wanted her to survive—10 months later, she's in the Wimbledon final," he writes. He then congratulates Kerber on her win before reminding everyone what a true champion his wife is.
"Serena Williams will be holding a trophy again soon—she's got the greatest one waiting at home for her. Our family knows she'll win many more trophies, too. She's just getting started. And I couldn't be more proud."
HOO BOY, is it dusty in here or what?
Since becoming a mother to daughter Alexis last fall, Williams has been open about her journey — from breastfeeding struggles to missing her little girl's first steps because she was training for Wimbledon. As for Ohanian, he's always been more than content to let his wife shine and proud to show his love for her in the most amazing ways possible.
His latest gesture of love has the internet (and literally anyone with a beating heart) in tears.
https://twitter.com/jetpack/status/1018208928050475009https://twitter.com/jetpack/status/1018248455234387969
https://twitter.com/jetpack/status/1018206208149393410https://twitter.com/jetpack/status/1018241195015692288
It's pretty clear Williams is married to her biggest fan — and of course her family is undoubtedly her greatest reward. It's never easy to suffer a loss, though, and Williams was pretty candid about her feelings after the tournament in her own emotional statement. Basically, she's given the world (and moms in particular) a million reasons to adore her forever and ever.
"For all the moms out there, I did this for you. I tried my best," Williams said, fighting back tears after the loss. "I was really happy to get this far. It's obviously disappointing, but I can't be disappointed. I'm literally just getting started."