The Pure Joy On Serena Williams' Face As She Beats These Men Is Perfection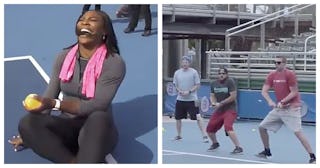 Twitter/EBC
12 percent of men believe they can score a point against Williams
If you've ever seen Serena Williams crush a tennis court, you know she is perfection to watch. She's won a record 23 grand slam singles titles, beating 12 different players who were ranked number 1, including her sister, Venus Williams, seven times. There are, however, some commoners who believe they could win a point off her if they ever got the chance and Twitter was not here for it.
According to a poll conducted by global online survey company YouGov, 12 percent of men surveyed actually thought to themselves, "shit yeah, looks easy enough" to play against the tennis star and actually score a point. To be fair, 74 percent didn't think they could at all which is good to know at least some people have common sense.
Of course, when the results were posted online, folks were understandably very much down to see what that entire thing would look like:
https://twitter.com/jetpack/status/1149717233188270081
Another Twitter user pointed out that Williams, who hits serves of more than 120 miles per hour, has blessed the average man with a game or two and they failed miserably.
"Male Critics: 'I'd destroy Serena Williams if I ever got the chance to play her!' Serna Williams: 'Ok. Bet'" author and speaker, BJ Thompson, writes in a now-viral tweet.
The video was Williams and the guys from Dude Perfect — an American sports entertainment group from Texas who post hilarious videos on YouTube. It shows just how impossible it would be for a person to not only win a point off the mom-of-one but even stand on the other side of the court without getting hurt.
Not only does Williams absolutely house the guys attempting to play with her (even all three dudes at once), they decided to give her a series of challenges like hitting objects off moving targets, breaking a water balloon, and even hitting a ball into a basketball hoop from the top of the tennis stadium — all she delivers on flawlessly.
Williams is a force, both on and off the courts. She's a fierce competitor, often calling out the double standards that exist for men and women in tennis. She's also mom to daughter, Alexis Olympia, with husband Alexis Ohanian and talks openly about the struggles of being a working mom.
She was also recently honored by Wheaties, who featured her on their cereal box. "In 2001, Wheaties paid homage to a true champion and an icon by putting her on the cover of a Wheaties Box," she wrote. "Althea Gibson was the FIRST Black Woman tennis player to be on the box. Today, I am honored to be the second."
We probably won't be seeing those 12 percent of men who think they could score off Williams on a Wheaties box anytime soon, because it's best to leave that to the professionals.