Serena Williams' Husband To All Romantic Gestures Ever: 'Hold My Beer'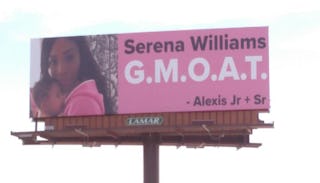 Image via Instagram/Alexis Ohanian
Williams' husband purchased not one, but four billboards in her honor
As far as husband's go, Serena Williams seems to have herself a keeper. As the new mom prepares to re-enter the world of competitive tennis, her husband wanted to make sure she knows he is thinking about her. And that no matter what accolades she receives on the courts, she will always have the title of "greatest momma of all time" off them.
Williams gave birth to daughter Alexis Olympia in September and since then, she has taken time off to be with her new baby and husband, Alexis Ohanian. But the 23-time Grand Slam singles champion is ready to return to tennis after five months off and her husband wanted to send her off in style. So he decided to purchase four billboards proclaiming her the "Greatest Momma of All Time." As one does.
"These just went up on alongside I-10 into Palm Springs," the Reddit cofounder said on Instagram, sharing that he and Olympia "wanted to welcome her back to tennis." "Designed them myself, with some help from Jr.," he added.
Ohanian and Williams were wed in November, 2017 and have been doting parents to their daughter ever since. It's clear from his grand gesture he's not only enamored with Williams on the court, but feels she is nailing this parenting thing as well.
Williams did compete at the Fed Cup in early February, playing doubles with her sister Venus. "I honestly feel better than I thought I would feel," she told reporters after the match. "I feel like I'm on the right track for me."
She's now scheduled to return to the Women's Tennis Association Tour at the BNP Paribas Open next week in Indian Wells, California. And when she does, she will be greeted by the billboards as she heads into Palm Springs, 25 miles from the venue.
The billboards, which feature the adorable Olympia, proclaim Williams to be the "G.M.O.A.T." — the Greatest Mother Of All Time, melting hearts everywhere. Judging by some of the stuff Ohanian posts on Instagram, he's a force to be reckoned with both in the husband and daddy department:
It's never easy to go back to work after having a baby, but it's safe to say these signs will make it a little easier on the new mom as she returns to dominate the tennis world. If she wasn't sure before, it's clear her husband and daughter are her biggest fans.