Serena Williams Is Every Mom Wondering Where Her Living Room Went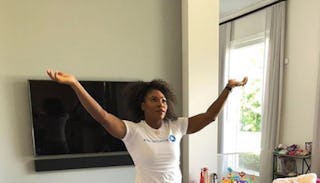 Image via Instagram/Serena Williams
Serena Williams' living room is all of our living rooms
Before kids, most of us had living spaces we could be proud of. It didn't matter how small, cramped, or spacious it was, it was our space dammit, and we had it decorated just so. After kids? Well..not so much. So when tennis star Serena Williams posted a photo of her current living room situation, it had all parents shaking their heads in unison, saying "Same, girl. Same."
"Sometimes I have to throw my hands up in the air. #thismama used to have a living room. Now I just have a play room. When did that happen?" she wrote next to a picture where it looks like Toys-R-Us and Chuck E. Cheese sort of exploded.
Williams and husband Alexis Ohanian welcomed their daughter, Olympia, a year ago and the sweet girl has been stealing the show ever since. Williams hasn't been shy in opening up about postpartum depression, the delicate balance of motherhood and career, and what it's like to travel with kids (hint: shitshow). She's always one to keep it real.
But having your house overtaken by plastic slides, rings, and more stuffed animals than a town carnival can make your once lovely living space feel, well, not your own. Any parent has likely tried all manner of tricks to keep things tidy, including shoving toys under couches, in cutesy matching bins with "TOYS" written whimsically on them, or hiding the crap in closets just to have some semblance of order.
But eventually, whether out of sheer exhaustion or an eventual lack of caring, the toys stay where they are and your living space becomes one giant Mommy-and-Me class.
Of course, any irritation must be erased by looking at those chubby little cheeks and perfectly pouty lips, because hello — little Olympia is simply much too cute.
Hang in there, Serena. You're absolutely not alone in losing your living room to the chaos.