Serena Williams Is Every Busy Mom Just Trying To Get Sh*t Done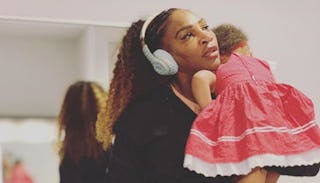 Image via Instagram/Serena Williams
Serena Williams shared a photo of what it's really like to try and get stuff done with a baby around
Whether you're a stay-at-home parent or working a paying gig, life is tough with little ones. They never run on our schedules, so we're often left juggling both parenting and adult life — sometimes, literally as a recent Instagram post from tennis phenom and super mom Serena Williams proves.
"As I head into next year it's not about what we can do it's what we MUST do as working moms and working dads. Anything is possible. I am getting ready for the first match of the year and my dear sweet baby @olympiaohanian was tired and sad and simply needed mama's love," she writes.
Ugh. Look at that sweet baby all nestled up on her momma. "So if it means warming up and stretching while holding my baby that's what #thismama will do," says Williams.
As it turns out, it's other parents that give Williams the strength to do it all — momming while also having an insanely successful career. "My fellow moms and dads working- or stay home it's equally as intense- but you inspire me. Hearing your stories makes me know I can do this. Thank you from the bottom of my heart. This year is to you!"
It would be easy to assume that Williams doesn't have the exact same parenting struggles as the rest of us, and in some ways, that's obviously true. She can afford help with her house, her kiddo, and her life in general. But when a child wants their momma — and when a momma wants to be there for her baby, no amount of assistants and nannies matter. You get the job done, whether it's dishes or readying yourself for a big tennis match, while holding your little one.
Williams is never shy in sharing the ups and downs of parenting with her followers, and we're grateful for it. She talks lost sleep.
And weaving in quality time with her daughter whenever she can.
Williams also delights in the fun little moments of having a mini-me to do life with.
Basically, she's our Mom Idol and as much as other parents inspire her, she definitely gives that right back to us.