Serena Williams Posts Mic-Drop Defense Of Meghan After Oprah Interview
by Julie Scagell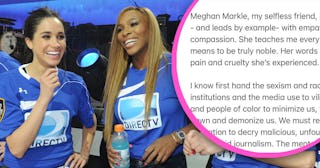 Serena Williams/Twitter and Kevin Mazur/Getty
Serena Williams took to Twitter to empathize with and defend her friend Meghan Markle
There were so many jaw-dropping and painful revelations during Meghan Markle and Prince Harry's highly anticipated two-hour sit down with Oprah that it was difficult to watch at times. While many have come to the couple's defense over the years, Markle's good friend Serena Williams may have summed it up best.
Williams responded to the heartbreaking interview, particularly when it came to the racism Meghan faced within the royal family and in the British media, none of it stopped by those who were supposed to protect her. "I am so proud of you for being so brave. I know it is never easy. You are strong- both you and Harry. I love you. I adore you. Your friend S," Williams captioned the post on Instagram.
In her post, she described how she's also been the victim of racism throughout her career and the role the media plays in perpetuating it. "I know first hand the sexism and racism institutions and the media use to vilify women and people of color to minimize us, to break us down and demonize us," the mom-of-one wrote. "We must recognize our obligation to decry malicious, unfounded gossip and tabloid journalism."
Markle noted during her interview that when it came to the couple's son Archie, there were "concerns and conversations about how dark his skin might be when he was born." Harry confirmed this, telling Winfrey, "That conversation, I am never going to share. At the time, it was awkward, I was a bit shocked."
She also sympathized with her friend about the toll it can take on a person's mental health. "The mental health consequences of systemic oppression and victimization are devastating, isolating and all too often lethal," Williams wrote.
Later that year, Williams told a then-pregnant Markle to "stop being so nice" amid what was happening at the palace and in the press. Markle has supported Williams at tennis matches as well. "I'm like, 'How are you?' and she's like, 'No, how are you?' and I'm like, 'You're so sweet, but I'm really asking ― how are YOU?'" Williams told People last year. "I'm like, 'Meghan, stop being so nice … you're the pregnant one, aren't you supposed to have hormones, why are you so sweet?' But that's always been her."
Williams also addressed the announcement that the couple is expecting a girl, saying: "I want Meghan's daughter, my daughter and your daughter to live in a society that is driven by respect."
She continued: "Meghan Markle, my selfless friend, lives her life — and leads by example — with empathy and compassion. She teaches me every day what it means to be truly noble. Her words illustrate the pain and cruelty she's experienced."