Serena Williams is 'Serenely' Stunning In Latest Pregnancy Photos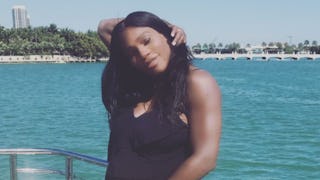 Image via Instagram/Serena Williams
Serena Williams shows off bump and looks so 'serene'
If calm is the new superpower, just add it to the tennis star's burgeoning list of talents. Serena Williams is serving up some serious pregnancy glow in her latest social media photos. And her truly "serene" look is captivating everyone.
The 35-year-old mama-to-be posted three snaps on Instagram of her on a yacht looking calm and radiant. She's cradling her bump with the most tranquil look on her face. Her head is tilted ever so slightly towards the sun as she gently smiles. We're feeling the goddess vibes she's giving off here. Scroll through to see them all.
She's certainly embodying her namesake fully and looking like the peaceful warrior that she is. Also, BRB, we need to find that black one-piece black bathing suit ASAP.
The athlete has a lot to be happy about for sure. She just recently celebrated her upcoming nuptials with a bridal shower at 1 Hotel & Homes South Beach in Miami, Florida last weekend, according to Entertainment Tonight. Williams was reportedly joined by 20 of her close friends and family, including her mother, Oracene, and sisters, Venus, Lyn, and Isha.
"The shower really reflected Serena's girlie and detail-oriented personality," her friend and L.A. event planner Val Vogt of VLV Group told PEOPLE. "There were lots of surprises for her throughout the weekend." Her longtime friend Lara Shriftman added: "It was a really magical weekend with a lot of love for Serena."
Williams is engaged to Alexis Ohanian, co-founder of Reddit. This is the couple's first child together. Here's them on their "babymoon" in Mexico in April.
Williams first announced her pregnancy when she posted a photo of herself at 20 weeks on Snapchat. She deleted the photo right away, but her rep later confirmed it. Williams then confirmed pregnancy rumors on Instagram with the sweetest message to her baby.
"My Dearest Baby, You gave me the strength I didn't know I had. You taught me the true meaning of serenity and peace. I can't wait to meet you," she wrote. "I can't wait for you to join the players box next year."
We can't wait either. And while the exact due date and wedding date haven't been confirmed, we're enjoying the tennis star's journey of love and motherhood.