Serena Williams Stars In Emotional Ad Featuring Video Of Her Life As A Mom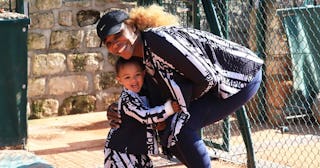 Serena Williams/Instagram
The U.S. Open ad stars Serena Williams and perfectly captures the ups and downs of motherhood
Tennis legend Serena Williams has been a force to be reckoned with on the court for decades. Off the court, she's been the loving mother to two-year-old daughter Alexis Olympia with husband Alexis Ohanian and has been open about the ups and downs of pregnancy, motherhood, and balancing work and home. Her comeback to tennis hasn't been an easy one, but a new Chase ad titled This Mama Keeps Going is an homage to motherhood and a powerful message for women to keep fighting against the odds.
Williams and her family appear in the video via home footage which captures some intimate moments of the family for the commercial being shown as a part of Chase's sponsorship of the U.S. Open. Williams, a six-time champion, has advanced again this year to the semi-finals. She appeared in last year's ad as well, but there should definitely be a tissue warning for this one.
This year's spot captures the essence of Williams as an athlete and a mom, using the same #ThisMama hashtag as last year to promote conversations about motherhood and women returning to pursue their passion, whatever that may be.
Opening with an ultrasound picture of baby Alexis, the ad also shows Williams recovering from her difficult birth, breastfeeding, and running around after a toddler. There are adorable shots of Alexis laughing and also ones of her screaming, a delicate balance all parents can relate to. At one point the video plays audio from an interview following Williams' first U.S. Open win in 1999 where she says, "Everyone's just so supportive, and that really helped me. It's not like it came easy, I really had to work. I've been practicing so long for this moment, and it came, and it's here," panning from her kissing the Open trophy to kissing Alexis.
"We wanted to shine a light on the incredible strength of mothers, using Serena Williams as the embodiment of this strength," agency strategy director Sarah Garman tells Muse. "As both a nurturing mother and a fierce competitor, no matter what, she keeps going."
Williams has been open throughout her pregnancy and during Alexis' young life that it's not easy being wife, mother, athlete, and role model, saying, "We have all been there. I work a lot, I train, and I'm trying to be the best athlete I can be," underscoring that she's not around as much as she'd like to be for her daughter. "Most of you moms deal with the same thing. Whether stay-at-home or working, finding that balance with kids is a true art. You are the true heroes."
This Mama Keeps Going perfectly summarizes Serena Williams, and is a must-watch for all of us as a reminder of just how strong we really are.