Serena Williams Starts #ThisMama To Share Parenthood Stories And It's Everything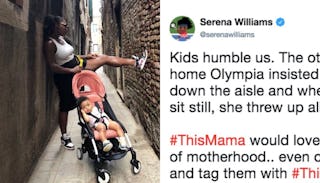 Image via Twitter/Serena Williams
Williams experienced every parents' nightmare on a recent flight and wanted to hear from other parents who've been there
Motherhood is amazing. It's also overwhelming, scary, frustrating, wonderful, and tiring. And sometimes, on our worst days, it's also nice to know someone else has walked in your shoes. Today, that someone is none other than Serena Williams, who posted a call to all mamas to share their stories after a particularly challenging day — and the responses will make you laugh, cry, and everything in between.
"Kids humble us," the mother of daughter, Olympia, wrote on Instagram. "The other day on a flight home Olympia insisted on running up and down the aisle and when I finally got her to sit still, she threw up all over me. #ThisMama would love to hear your stories of motherhood.. even ones like this!"
Williams and her husband Alexis Ohanian, the co-founder of Reddit, became parents in September 2017 when they welcomed little Alexis Olympia. Since her birth, they've been sharing sweet moments with her and it's impossible not to adore this child, puke and all.
Fortunately for Williams when she asked for stories with the hashtag #thismama, the internet didn't disappoint:
https://twitter.com/jetpack/status/1033815946849341446
https://twitter.com/jetpack/status/1033815222094454784
https://twitter.com/jetpack/status/1033856272066523136
Williams has always been open about her struggles with motherhood. After she went back to work, she openly shared her frustrations with missing major milestones and how hard it is to be a working mom. She's also not shy about asking for advice — and why not — she has millions of fans (and moms) who've come before her. Why wouldn't she seek out others during a time when we're all at our most vulnerable?
Williams announced her pregnancy in August 2017, saying, ""My Dearest Baby, You gave me the strength I didn't know I had. You taught me the true meaning of serenity and peace. I can't wait to meet you. I can't wait for you to join the players box next year."
https://www.instagram.com/p/BTROccdhdjo/?utm_source=ig_embed&utm_campaign=embed_loading_state_control
Even though she's a world class athlete and celebrity, it's nice to know at the end of the day she's a mom, just like us. A mom who is secure enough to share the highs along with the lows and who ends up chasing her kid around an airplane full of strangers, apologizing profusely for all the havoc they create.