Serena Williams just proved she doesn't need her banned catsuit to look amazing on the court
I think it's safe to say that women everywhere are pretty over dress codes that police our bodies. They're pointless and sexist and in the year of our lord 2018, it's time for them to go. I think it's also safe to say that Serena Williams agrees.
Amid the controversy surrounding Williams' form-fitting "catsuit" being banned from future French Opens, the tennis star appeared on the first day of the U.S. Open rocking a custom-designed black tutu, a collaboration between Louis Vuitton designer Virgil Abloh and Nike.
And you know what? She looked fresh as hell.
In May, Williams played in the French Open, a tournament she's won three times. She wore a Black Panther-inspired bodysuit that looked bomb as hell on her, if we're being honest.
But the form-fitting suit was apparently too much for certain sexist tennis officials, who responded to it by writing a brand-new dress code and banning the outfit because "One must respect the game and the place." Excuse me if this is too much for some men to handle, but wearing something that provides full range of motion and allows her to play at her absolute best sounds like it's respecting the game just fine.
Also important to note: The bodysuit wasn't even just about looking amaze. Williams wore it after she had a pulmonary embolism while giving birth to her daughter just months earlier. The tight suit helped her prevent more blood clots. Way to go, jerks. You'd actually rather put a woman's health in danger than allow her to wear something that shows the real shape of her body. But anyway, I digress.
Williams took the whole situation in stride, and her new tutu is a hilarious (and frankly, adorable) way to troll those sexist assholes. We are here for it, along with like, the whole internet.
Serena's U.S. open outfit is everything👸🏾 pic.twitter.com/mDS21SSEkd

— Blk Girl Culture (@blkgirlculture) August 28, 2018
#SerenaWilliams walked into her first round match at the #USOpen tonight rocking a whole one sleeved bodysuit tutu and a leather jacket, all designed by #VirgilAbloh for #OffWhite. Chick slayed, easily winning this first match. Congrats! #BlackExcellenc… https://t.co/gSa9NLOI0N pic.twitter.com/iQlHPPTWBM

— YBF CHIC (@TheYBF) August 28, 2018
French Open: The catsuit is inappropriate and does not meet our oppressive, paternalistic standards of femininity. @serenawilliams: Watch me dominate the court in a tutu. pic.twitter.com/yWaGtz7n5E

— Aisha Alexander (she/her) (@AishaThinker) August 28, 2018
Oh, and for that pesky blood clot problem? Williams paired the tutu with compression fishnets. Yes, fishnets.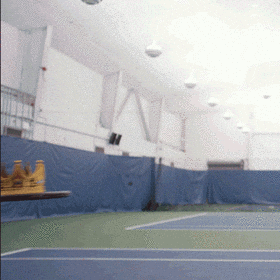 Williams pretty easily won her match, and afterward, said the tutu ensemble was "easy to play in" and even "aerodynamic." Does that mean we'll be seeing repeats of this particular outfit? One can only hope.