Serena Williams Turns To Fellow Moms For Breastfeeding Advice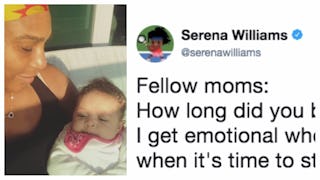 Image via Twitter/Serena Williams
Even world champion athletes still need reassurance from fellow moms
It doesn't matter who you are, first-time parenting will kick your butt physically and emotionally. Even if you're Serena Williams, a world class athlete and one of the most Bad Ass Persons of our time. She recently sought some breastfeeding advice from fellow moms online, just like the rest of us do.
The tennis superstar and new mom to daughter Alexis was candid on Twitter about breastfeeding and the emotions that go along with it.
"Is it weird that I get emotional when ___" is just a staple question for all new moms, is it not? Sometimes we just need some assurance from Those Who Have Come Before Us.
Whether we belong to the typical mom groups on Facebook or crowdsource for support on Twitter, the responses to Serena's tweet prove we're all in this crazy, emotional, anxiety-laden parenting thing together.
https://twitter.com/jetpack/status/938794928683061248
Breastfeeding isn't for everyone, of course. And it's damn hard to do for many of us — hell, even if you and the baby get the hang of it right away, it's still so incredibly demanding and draining. In the early days, I used to long for a time when my life wasn't ruled by the ticking of my boobs. Half a year into it and I was whipping out my boobs without a second thought, not giving AF who was around or where we were.
When my daughter decided to self-wean at 13 months, I knew we were done and that was OK, but the flood of hormones and emotions surrounding the end of one of our little journeys together turned me into an absolute hot mess for about a month.
Bottom line: as long as we're doing what works for our babies and for us, that's the only answer we ever really need.