Service Dog Learns How To Wear PPE So He Can Work In The Lab With His Owner
by Kristine Cannon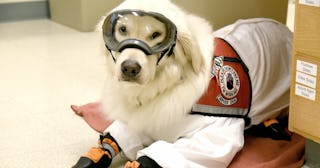 Sampson the Service Dog/Twitter
OH FUR CUTE
Are you ready for it? For your daily dose of adorable? Because today, it's brought to you by a pup in PPE: Golden Retriever service dog, Sampson. And what makes this story so damn cute is Sampson learned how to wear PPE so he can work in the lab as his owner's lab assistant at the University of Illinois.
Sampson, donned head to paw in canine PPE, is the Very Good Boy Assistant of his disabled neuroscientist owner, Joey Ramp. According to People, Ramp suffered head injuries following a serious horse-riding accident back in 2006. But that accident didn't stop Ramp from pursuing a new career as a neuroscientist — and her lab assistant might just be the cutest, cuddliest one yet. Just look at him!
Sampson is the first-ever canine to be granted access to a chemistry laboratory at the University of Illinois.
As a service dog in the lab, Sampson must not only wear PPE at all times, but he must also remain in his handler's direct line of sight at all times. Other rules Sampson must follow include staying out of others' way in the lab, laying on his designated rubber-backed mat, and retrieving things on command (versus automatically).
"If we're not in the lab for a while, I'll put the goggles on, and we'll go out and play frisbee, and he'll run around," Ramp said.
Sampson not only helps Ramp with lab-related duties, but he also helps spot signs of Ramp's PTSD.
"If I drop something in the lab, he'll come to my side, and I can use him as a brace to kneel down and pick up what I need," said Ramp, a former horse trainer who broke 23 bones, damaged her prefrontal cortex, and suffered permanent nerve damage to the left side of her body following her serious polo accident.
Now, Ramp's pursing her Ph.D — with Sampson right by her side.
"I couldn't possibly navigate academics or a neuroscience program without his assistance," Ramp told SWNS. "There's more focus on the dog than the service they are providing, and they were barring an entire population of students from entering lab work and ultimately the STEM field."
Ramp now works with universities around the world to help them introduce more service dogs into the lab and help them adopt lab service dog guidelines.
"It takes the mystery out of what a service dog does and how you can accommodate them in a lab," Ramp said. "It also gives handlers an idea of what training their dog requires, because learning to wear goggles takes time."
Ramp said she wants people to understand that service dogs have a very high level of training.
"They provide independence and keep their handler healthy, happy, and able to go about life in ways they wouldn't be able to do without their service dog," she said. "People with disabilities do want to study science and to look at people with disabilities and service dog handlers with a view of making things more accessible to them is really important and it's time."