These Service Dogs Living Their Best Life At Disneyland Is Your New Favorite Thing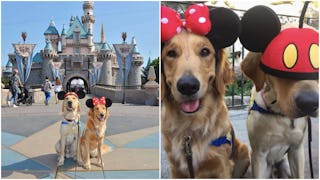 Image via Twitter/Canine Companions
The pictures of these service dogs at Disneyland are everything
If you've ever visited Disneyland you know it really is the happiest place on Earth. But for those visiting the theme park on March 29th, they had an even more magical day after spotting a gaggle of service dogs in Mickey hats having a dog-gone good time.
Canine Companions for Independence provides highly trained assistance dogs free of charge to help people with disabilities. The nonprofit agency brings their dogs to theme parks to help train them on patience and attentiveness in a busy environment filled with chaos, crowds, and noise so they're better equipped to handle themselves in stressful situations.
By the looks of it, Essie, Aryssa, Chekov and Ortega know how to mix business and pleasure:
"The puppies' raisers enjoy taking puppies on outings that will help them when they become service dogs. Disneyland is perfect because of the different sounds, smells and people that they'll see," Laura Allen, one of the puppy raisers, told Scary Mommy.
According to their site, the dogs "open up new opportunities and new possibilities, and spread incredible joy. We unite people with dogs in a powerful program that leads to greater independence and confidence."
They have several categories of training for their dogs — ones to help assist adults with physical disabilities, hearing dogs, facility dogs to work with clients with special needs in a visitation, education, criminal justice or health care setting, and skilled companions to enhance independence for children and adults with physical, cognitive and developmental disabilities.
Of course, all the Disney characters had to get in on the action because how could you resist these pupperonis?
That smile, though:
Volunteers typically live with puppies for a year and a half before they go to a regional training center for professional training. These dogs work hard and receive extensive training before they are placed with individuals who need them, so it's fitting they be treated to a trip like this, even if it's work-related.
Ohmygod, my heart can't take it:
The dogs had a great time and sat for a lot of precious pictures (with lots of puppy cookies available of course!). They also had a lot of breaks and naps as well.
We have a feeling these amazing puppers will be spoiled for the rest of their lives, as well they should.