Sesame Place Is The First Theme Park To Become A Certified Autism Center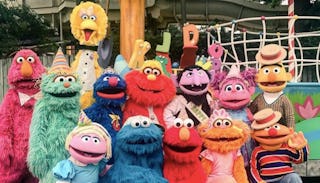 Image via Instagram/Sesame Place
Staff members will be trained to meet the needs of children who fall within the autism spectrum
With April being National Autism Awareness Month, there's no better time to celebrate the fact that Sesame Place, the incredibly popular Sesame Street theme park in Pennsylvania, is officially autism-certified. Because Sesame Street is just plain awesome — for everyone.
Sesame Place officially has the honor of being the first theme park in the world to be recognized as a Certified Autism Center, in conjunction with the International Board of Credentialing and Continuing Education Standards. It's always been the only theme park entirely dedicated to Sesame Street, and now it's pioneering the way for theme parks to be inclusive to meet the needs of all children.
Being a Certified Autism Center means the staff at Sesame Place will be trained and certified to interact with all families and children with special needs, specifically within the autism spectrum. Training takes place in the areas of sensory awareness, environment, communication, motor and social skills, program development, and emotional awareness as well as a comprehensive autism competency exam. Sesame Place staff members will be required to complete the requisite training every two years in order to maintain certification.
Sesame Place is chock full of the delightfully fun and educational goodness that is Sesame Street. Between the character meet-and-greets, the rides, and the programs offered, it's just a wonderful place for kids.
Recently, the show introduced a new character, Julia, a four-year-old who has autism.
Sesame Place's recent certification aligns with Sesame Street's commitment to increasing awareness and understanding of autism. Julia even made her debut at Sesame Place last fall, and the park is also working to develop programs to give guests additional opportunities to interact with Julia one-on-one.
"Since her debut, Sesame Street's Julia has touched the lives of millions of children and families around the world and we're proud that partners like Sesame Place are committed to providing autism-friendly experiences," Scott Chambers, Senior Vice President and General Manager, North America Media and Licensing, Sesame Workshop, told In-Park Magazine. "We applaud them for earning this distinction."
Sounds like it's time to plan a family visit to Sesame Place, where everything is surely A-OK. The park opens for the season on April 28.