'Sesame Street' Is Launching A Show In Arabic To Help Refugee Kids Learn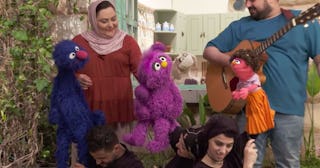 60 Minutes/Youtube
Sesame Street and the International Rescue Committee are addressing serious needs for education for refugee kids
In today's world, there are more people living as refugees than at any time in history since WWII. Around half of those refugees are children. And in the political climate we have in the world today, the average length of time a refugee spends away from their home country is nearly 20 years. That means millions of children around the world are spending their entire childhood as refugees, often in camps that have few, if any luxuries, and lack the educational opportunities kids need. Sesame Street wants to address that.
Sesame Workshop, the company that creates Sesame Street, has teamed up with the International Rescue Committee to address the desperate need for educational resources in refugee camps, especially in places where refugees from Syria and other Arab states have sought refuge.
With a $100 million grant, the two organizations want to help refugee kids overcome trauma while also giving them important early childhood education. Their plan is two-pronged and will involve delivering in-person educational services to over a million refugee kids, while a new Sesame Street show will be created in Arabic to be made available in refugee camps for more than 8 million kids.
Production of the new show has already started in Jordan, a country to which many Syrian refugees have fled. It stars a purple Muppet named Basma, who is becoming fast friends with a Muppet named Jad who has just moved into her neighborhood. According to CBS, it's never explicitly said that Jad is a refugee, but there are clues: He's voiced by a Syrian actor, and in one episode, when the characters are showing each other their favorite toys, Jad says he can't because he left all his toys behind in his old home.
Unlike the Sesame Street you may be familiar with, this one doesn't put its primary focus on teaching letters and numbers, though that's still an important part of the show. Instead, the characters on this version of Sesame deal with difficult emotions like fear, anger, loneliness, sadness, and determination. The idea is to give kids a place where they can get some of the traditional education they may be missing out on as refugees, but also learn how to identify and cope with some of the trauma they've experienced in being forced to flee their homes at a young age and grow up surrounded by war and impermanence.
The $100 million grant for this program is meant to last for five years. The people behind it hope they can eventually expand to more parts of the world, including Bangladesh and Uganda.