Sesame Street Has Always Understood The Assignment, And We Are Grateful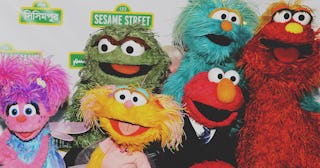 Andrew H. Walker/Getty
The longtime residents of Sesame Street recently announced that they are receiving the COVID-19 vaccine, and then they took to Twitter to remind us of this video of Big Bird getting a measles vaccine way back in 1972.
It seems to be sent as a reminder that the Sesame Street inhabitants have never shied from communicating their clear, science-based stances or solutions, no matter the topic at hand. Rightfully and consequently so, I (along with Scary Mommy) have to send a HUGE "Thank you!" to the Sesame Crew for all the incredible, layered topics they've discussed throughout the last fifty-two years they've been in production.
Like in 2017, when Sesame Street introduced a new character named Julia. She officially became one of television's first characters identified as on the Autism spectrum. Not only did Julia present children a way to understand how friends with atypical social behaviors may interact, it also allowed children on the spectrum representation on one of the world's most famous and longest-running shows. How impactful.
Going even further back, Sesame Street took the care to discuss another relatively untouched topic in 2013: parental incarceration. Their episode, "Little Children, Big Challenges: Incarceration" touches upon the stigma, stress, and various emotions related to having a parent in prison. Their hope was to lift some of the shame kiddos sometimes feel, and start an open dialogue about the aftermath of incarceration. As someone who has experienced familial imprisonment as a pre-teen and teenager, I commend Sesame Street once again for giving kids a way to express themselves about something that's taken me years to discuss myself.
Sesame Street also recently touched upon the topic of homelessness. In 2020 Sesame Street tactfully introduced their first homeless muppet, Lily, to let their viewers who may be experiencing a similar situation know that they are not alone. They don't delve into cause and effect, but instead artfully remind children that they are not at fault no matter their circumstance. They also include that home is wherever love resides. It is so important for kids to be heard and seen, and we commend Sesame Street (cast and crew) for allowing all children to feel so.
To add amplification to the traditionally voiceless, Sesame Street also introduced a character named Karli in 2019. She is the official face of the foster care initiative started by Sesame Street in Communities, and she's utterly adorable. She is also the daughter of an addict formerly away in treatment and who is currently in recovery. Some viewers (or maybe they're just internet trolls?) have expressed their distaste for the character's storyline. However, I am personally applauding the writers' ability to embrace the 'big talks,' and for allowing all sorts of familial situations to be highlighted. All of our stories are valid, and they all deserve representation, especially when they represent a large portion of the nearly 400,000 American children in foster care (as reported by the Lilliput Organization).
Sesame Street's ability to simplify the most complicated of topics even scored them an Emmy in 1984. Their 1983 Thanksgiving Day episode was crafted for and dedicated to longtime cast member, Will Lee, who died suddenly. Instead of recasting his role or rewriting the series to avoid mention of his character, as a kids' show might feel inclined to do, writers decided they would discuss his death and honor his life. The delicate, poignant episode was a beautiful tribute and only added to the clout of a fabulously powerful series.
And if all that proves anything, it's that the Sesame Street cast and crew are such pros, they can turn any simple scene in to a massive lesson. Like in 1985, when they finally decided to reveal Mr. Snuffleupagus to the "neighborhood" adults. In my child-mind, I was just thrilled to see my favorite character finally be acknowledged by the older crew around town; Big Bird was no longer seen as a liar or dramatizer. Little did I know that the writers had finally revealed him to send a powerful message to kids in terms of child abuse: they shouldn't be afraid to report disturbing things that had happened to them for fear of not being believed. And as an openly healing victim of domestic violence, I am so very thankful for this hidden motive, whether I knew of it or not.
So, like I said, Sesame Street freaking rocks. And I am so thankful they're helping my kiddos see they can make big decisions or survive big experiences, too, just as they've helped millions of children for years.