Sesame Street Breaks Barriers By Introducing Its First Ever Character With Autism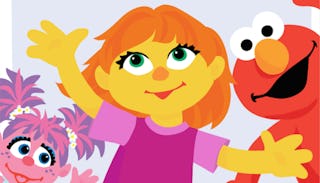 Sesame Street is known for its iconic and lovable characters, and now there's a new face in the neighborhood that comes with some important lessons. Today, Sesame Street Workshops, the team behind Sesame Street and other educational programs, announced their first-ever character with autism.
The new neighbor's name is Julia, and she's a part of a nationwide initiative that aims to reduce the stigma of autism and help make life easier for families of children who have it. The initiative is aimed at kids ages two to five and includes videos, digital story cards, and other materials aimed at helping kids with autism and explaining what autism is like from the perspective of a child.
Julia's purpose is not only to promote understanding and awareness, but also to give kids on the spectrum a chance to relate to a character who's just like them. Dr. Jeanette Betancourt, senior vice president of U.S. social impact, tells People, "Everyone is touched by autism, and by creating Julia, Sesame is bringing children together."
Sesame Street is also taking the campaign to social media, where they're promoting awareness using the hashtag #SeeAmazing. It's a nod to the initiative's specific name, which is Sesame Street and Autism: See Amazing In All Children. They even created this adorable song:
According to Dr. Betancourt, one in 68 children has autism and those kids are five times likelier to be bullied by their peers. By creating a campaign that fosters understanding and emphasizes the many ways that we all relate to one another, Sesame Street is teaching kids from the earliest possible age to be empathetic, compassionate, and understanding of each other's differences.
Unfortunately, so much of what we see and hear in the media paints autism in a negative light. It gets wrongfully dragged into conversations about vaccines or talked about strictly from a clinical standpoint. There are so few things like this initiative that just show happy, thriving kids who are living their lives with autism.
We all want to be able to see characters who look and feel like us in our media, and Julia gives kids with autism an opportunity to do that. She also promotes awareness and understanding among other children and adults. It's a brilliant move by Sesame Street, and one that will no doubt make life a little brighter for thousands of little kids.
We're not all the same but we can all learn to be kind and loving towards one another, and that's the reason Julia is here.