Sesame Street Responds To Coronavirus Pandemic With Over 100 Free Ebooks
by Madison Vanderberg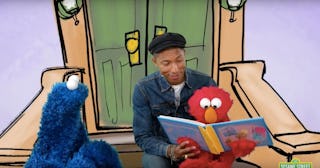 Sesame Street
Sesame Street released over 100 free eBooks and other printables, worksheets, and guides for families during the pandemic
Half of the U.S. is under some form of stay-at-home order during the coronavirus pandemic, which means tons of families on lockdown together, parents doing their best to home school, and kids wondering why they can't go to restaurants or see their friends or do anything, well, normal. These aren't normal times and to help us get through this global crisis together, Sesame Street just freed up a huge catalog of eBooks.
Sesame Street released 110 eBooks which you can download from all the major eBook platforms (Amazon Kindle, Apple Books, Google Play, Barnes & Noble Nook, Kobo) for free. And like all things Sesame Street, the books are both eduational and entertaining, so pop the kids in front of the Kindle for an hour and that's first period, right?
The free eBooks are part of Sesame Street's "Caring For Each Other" initative which also includes daily worksheets on creating routines during "The For Now Normal," health and self-care minded coloring pages, and printables on timely topics like "How to wash your hands." You can also find the free eBooks on Sesame Street's "Caring For Each Other" portal.
"Around the world, young children's lives are being turned upside down, and parents and caregivers are looking for ways to give their children — and themselves — a sense of stability in this new normal," Dr. Rosemarie Truglio, senior vice president for curriculum and content, sesame workshop, said in a statement (via DesignBoom). "But there are things parents and caregivers can do to face each day with optimism. Sesame Street is here to provide the caring adults in children's lives with the resources they need to help children, and foster their healthy development at home."
Sesame Street says the activities on the site "are not prescriptions you have to follow, but ideas you can use to spark other playful learning moments," and they promise to add more content to the portal on a regular basis. Sesame's new portal and free eBook service is just one of many free at-home projects companies are pivoting to during the coronavirus pandemic to help families stay entertained. The makers of "Baby Shark "released a remix called "Wash Your Hands." Amazon has made some of its kid-content free to watch, even if you don't have Prime. And Onward is now streaming on Disney Plus, despite being in theaters just weeks ago.
Information about COVID-19 is rapidly changing, and Scary Mommy is committed to providing the most recent data in our coverage. With news being updated so frequently, some of the information in this story may have changed after publication. For this reason, we are encouraging readers to use online resources from local public health departments, the Centers for Disease Control, and the World Health Organization to remain as informed as possible.
This article was originally published on