Sesame Street Is Encouraging Early Screenings For Autism With New Campaign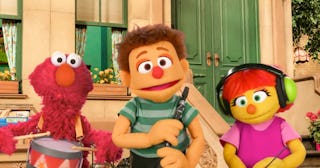 PBS
The ad campaign will feature Sesame Street's puppet with autism, Julia
Two years ago, Sesame Street introduced Julia, their newest Muppet. She's four-year-old with autism, and she's since played a very key role in the cast and in multiple shows where she highlights how her life and daily activities work a little differently than those of her friends. Now she's part of Sesame Street's newest campaign encouraging the importance of early screenings for autism.
Through a partnership with Autism Speaks, Sesame Workshop, — the nonprofit production company behind Sesame Street — and the Ad Council, the campaign consists of two ads that show Julia using tools that help her better communicate with friends and family. In one of the spots, she uses a tablet to tell her dad that she wants to play catch with her dog. This shows how children on the autism spectrum may have delayed speech.
Another ad shows Julia putting on noise-reducing headphones. Children with autism can be sensitive to light and loud sounds, and Julia uses headphones so she can play instruments with her friends.
The aim of the ad campaign is to help parents learn the signs of autism and understand the importance of early screenings and diagnosis.
"Receiving an autism diagnosis is just the first step in creating a better future for a child on the spectrum, and there are multiple benefits to getting that early diagnosis," says Autism Speaks President and CEO Angela Geiger in a press release. "Research shows that early intervention can have a positive impact in so many ways, and we are dedicated to helping parents learn the signs and feel empowered to help their children lead their best lives."
While the American Academy of Pediatrics recommends screening for every child at the 18- and 24-month well-child visits, a recent survey conducted by the Ad Council and Autism Speaks found that only 66 percent of parents of children ages 6 and under say their child has not been screened for autism. Most kids are being diagnosed between ages 4 and 5, and that age is higher for low income and minority children.
The campaign encourages parents to visit ScreenForAutism.org or DeteccionDeAutismo.org, where resources are available in both English and Spanish to help identify the signs of autism, access an autism screening questionnaire, seek information from Autism Speaks' Autism Response Team and find supports for before, during and after diagnosis.
The site also includes free, bilingual resources for families from Sesame Street and Autism: See Amazing in All Children initiative. Building on the print, online and outdoor public service announcements released in April, the new videos will appear nationwide in donated media, in TV and digital formats.
"Early screening made a lifetime of difference for Julia and her family, and we're thrilled to share her story with families through this campaign," said Sherrie Westin, President of Social Impact and Philanthropy, Sesame Workshop. "Through our Sesame Street and Autism: See Amazing in All Children initiative, Julia has shown that all children are amazing in their own ways. With the right support, every child can reach their full potential."
This article was originally published on