Sesame Street Introduces Family With Two Gay Dads For Pride Month
by Kristine Cannon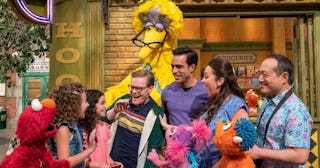 2021 Sesame Workshop/Richard Termine
'Sesame Street has always been a welcoming place of diversity and inclusion'
Sesame Street, the decades-old, iconic children's show, is celebrating Pride Month in a very special way: by introducing a family with two gay dads. The episode titled "Family Day" aired on Thursday on HBO Max; and believe us when we tell you, it's a can't-miss.
"Sesame Street has always been a welcoming place of diversity and inclusion," actor Alan Muroaka, known as Alan, the owner of Hooper's Store on Sesame Street, writes on Facebook. "So, I'm so excited to introduce Nina's Brother Dave, his husband Frank, and their daughter Mia to our sunny street."
In the episode, which is co-directed by Muraoka, Big Bird thinks his grandmother (Granny Bird) can't make the party, but little does he know, he's in for a big surprise, thanks to his neighborhood family.
"It's Family Day on Sesame Street!" the episode description states. "Relatives from all over are coming to celebrate, but Big Bird thinks his Granny Bird isn't going make it to the party. Big Bird's in for a big surprise when his friends work together to bring Granny Bird to the celebration!"
At one point, Nina introduces her brother, his husband, and their niece — played by Chris Costa, Alex Weisman, and Olivia Perez, respectively — to Elmo as they celebrate Family Day.
"Everybody, I want you to meet my brother, Dave, his husband, Frank, and my sobrina, Mia, my niece," Nina says.
"Papi! Daddy!" Mia says to her dads. "Sesame Street is even more amazing than you said."
"I am so honored and humbled to have co-directed this important and milestone episode," Muraoka says. "Love is love, and we are so happy to add this special family to our Sesame family. Happy Pride to all!!!!"
According to GLAAD President and CEO Sarah Kate Ellis, the "Family Day" episode sends the very important message that families come in all forms — "and that love and acceptance are always the most important ingredients in a family."
"Frank and Dave, as Mia's dads, are the latest characters in an undeniable trend of inclusion across kids and family programming, one that allows millions of proud LGBTQ parents, and our children, to finally get to see families like ours reflected on TV," Ellis says.
This isn't the first time Sesame Street has embraced diversity on its show this year.
In March, Sesame Street introduced two Black muppets to the show encourage racial literacy and support families in speaking to their kids about race and racism. The special, The ABCs of Racial Literacy, was part of Coming Together, Sesame Workshop's continuing program dedicated to racial justice.
"At Sesame Workshop, we look at every issue through the lens of a child. Children are not colorblind — not only do they first notice differences in race in infancy, but they also start forming their own sense of identity at a very young age," Dr. Jeanette Betancourt, Senior Vice President, Sesame Workshop said in a press release at the time.
Betancourt added that The ABCs of Racial Literacy is designed to foster open, age-appropriate conversations among families and support them in building racial literacy.
"By encouraging these much-needed conversations through Coming Together, we can help children build a positive sense of identity and value the identities of others," Betancourt said.