Sesame Street Introduces The First Muppet To Experience Homelessness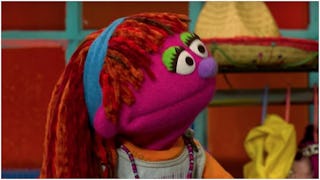 Image via Sesame Workshop
Sesame Street is tackling the issue of homelessness for the first time
Lily is a pink Muppet with bright rainbow braids and a blue headband. She's the first resident of 123 Sesame Street to experience homelessness and the long-running television show is going to build out an entire interactive story about her life. So much applause for the folks working behind-the-scenes of Sesame Street, who are continuing to explore serious, real-world issues for kids.
Lily was first introduced as a young Muppet whose family was struggling to afford food. The writers decided to expand her storyline so they could tackle the issue of homelessness.
"This seemed like a really perfect extension of her story, so that we could use her to help children identify with," Sherrie Westin, president of global impact and philanthropy for Sesame Workshop, told CNN. "With any of our initiatives, our hope is that we're not only reaching the children who can identify with that Muppet but that we're also helping others to have greater empathy and understanding of the issue."
Lily is a seven-year-old Muppet who, during a recent painting session with Elmo, explained that her family is experiencing homelessness. "We don't have our own apartment anymore and we've been staying in all different kind of places," she tells him.
Her storyline is part of Sesame Workshop's Sesame Street in Communities program, which offers free educational resources for families. Lily's journey will be part of a larger initiative to spread awareness and helpful tools about homelessness. There will be bilingual online videos and resources offered at no cost to parents and teachers who want help in speaking to children who are struggling with losing their home.
This couldn't be a more important issue to tackle. According to a report from US Administration for Children and Families, around one in 20 children younger than six experienced homelessness between 2014 to 2015. Hopefully, Lily's story will help those kids feel a little less alone — and teach their peers to be sensitive to those who don't have a permanent place to live.
"We know children experiencing homelessness are often caught up in a devastating cycle of trauma — the lack of affordable housing, poverty, domestic violence, or other trauma that caused them to lose their home," Westin said. "We want to help disrupt that cycle by comforting children, empowering them, and giving them hope for the future. We want them to know that they are not alone and home is more than a house or an apartment — home is wherever the love lives."
As always, Sesame Street is at the forefront with including and representing all children — and educating them.