These New Sesame Street Stamps Will Make You Want To Mail All The Things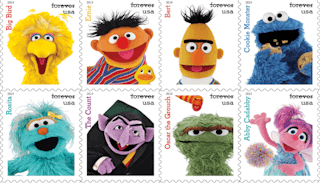 Image via USPS
The stamps feature all our favs like Ernie, Bert, Snuffleupagus, and Elmo
It seems the days of needing books and books of stamps laying around is all but in the rearview mirror for most of us who pay our bills online. But you're going to want to come up with a bunch of reasons to mail things because the U.S. Postal Service announced new stamps for 2019 and one set is inspired by our favorite Sesame Street Muppets.
The announcement comes on the heels of the beloved TV series celebrating its 50th anniversary this year. "The Postal Service honors Sesame Street as one of the most influential and beloved children's television shows. For the last 50 years, it has provided educational programming and entertainment for generations of children throughout the country and around the world," the USPS said in their announcement.
I mean, could they be any more adorable? Imagine rolling up to your mailbox and finding a card with Abby Cadabby's smiling face staring back at you. Hell, the envelope could hold an IRS notice inside and it would still make you happy. OK, fine, even Abby doesn't hold those kinds of powers, but you get the drift.
"The stamp art features photographs of 16 Muppets from Sesame Street — Big Bird, Ernie, Bert, Cookie Monster, Rosita, The Count, Oscar the Grouch, Abby Cadabby, Herry Monster, Julia, Guy Smiley, Snuffleupagus, Elmo, Telly, Grover, and Zoe." I'll try to get over the fact that Kermit didn't make the cut, but it won't be easy.
Sesame Street is everything I loved about my childhood. I raced home from school to watch the program and I'm not exaggerating when I say 85 percent of my clothing as a child had one or all the muppets listed above emblazoned all over them. I had both Ernie and Bert on the bottom of my shoes telling which was left and right, three different Snuffleupagus pajamas, and have vivid memories of "borrowing" one of my friend's Cookie Monster windbreakers and never giving it back.
If you aren't feeling the Sesame Street stamps (and honestly, how dare you), USPS is also releasing two other books. One featuring the T-Rex, which includes 16 stamps that "brings Tyrannosaurus rex to life — some 66 million years after its demise." The "Nation's T. rex," featured on two of the stamps is "one of the most studied and important specimens ever found."
The third, which will likely be introduced in the fall, are the Spooky Silhouettes stamp collection. "Halloween has long been a holiday that lets us delight in the things that scare us," USPS said. "With the approach of autumn, Spooky Silhouettes stamps will offer fun, frightful scenes that symbolize this annual celebration. Four stamps feature digital illustrations in which traditional Halloween motifs are rendered as black silhouettes in eerily backlit windows."
Whatever your preference, these stamps are sure to bring out the kid in all of us — even if we're using the stamps to pay our damn bills because we had to grow into adults.
This article was originally published on