$100 Million Grant Will Create 'Sesame Street' For Refugee Kids
by Jerriann Sullivan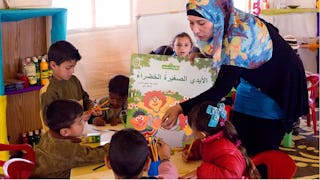 Image via Sesame Street
Sesame Street to help refugee children address toxic stress
Sesame Street will help refugee children from the Middle East with specialized programming thanks to a $100 million grant from the John D. and Catherine T. MacArthur Foundation.
Kids who have lost their homes, schools, friends, and relatives because of war will have access to educational programming from Sesame Street that will help them heal. Sesame Street will work in partnership with the International Rescue Committee to "implement an evidence-based, early childhood development intervention designed to address the toxic stress experienced by children in the Syrian response region—Jordan, Lebanon, Iraq, and Syria," they said in a statement. The specialized programming will also help kids improve their learning skills in addition to their intellectual and emotional development.
Sesame Street has tackled tough topics for years, and they're not showing any signs of slowing down. Last month, we told you about their new series of videos for kids dealing with trauma from natural disasters, anxiety, divorce, incarceration, and various other stressful situations. And in April they made Julia, a four-year-old girl with autism, a regular on the show to help kids learn more about the disorder. This new project gives them the opportunity to help some of the 12 million kids under age 8 who have been displaced due to the global refugee crisis.
"The Syrian refugee crisis is the humanitarian issue of our time and we are deeply grateful for this incredible opportunity," explained Jeffrey D. Dunn, President & CEO of Sesame Workshop. "For almost 50 years, Sesame has worked around the world to improve the lives of children and help them to grow smarter, stronger and kinder. This may be our most important initiative ever and we are humbled by the trust and confidence that has been placed in us. These children are, arguably, the world's most vulnerable and by improving their lives we create a more stable and secure world for us all."
The work will be the most extensive early childhood intervention program ever created in the history of humanitarian response. Sesame Street and IRC worked with local child development and curriculum experts to design a program that fosters nurturing relationships and ultimately helps kids overcome the trauma of living in a conflict zone.
"Our early childhood development program will be the largest in the history of humanitarian response, bringing hope and opportunity to a generation of refugee children," Sesame Workshop says on its website.
First, the team will create customized educational content and a new local version of Sesame Street that will be free and available on TV, smartphones, and digital platforms. "Embedded in the content, Sesame's Muppets will model inclusion and respect, and gender equity, and they will provide engaging educational messages, always from a child's perspective," Sesame Street said. The content will also teach kids language, reading, math, and socioemotional skills they need.
Then they'll send community health workers to homes to help families learn about caregiver responsiveness, early learning, mental health, and resiliency. They'll also get families engaged in the healing process by providing their specialized content in storybooks and picture books, parent brochures, caregiver guides, toys, developmentally appropriate games, digital content, and parenting resources on mobile devices. Finally, they'll create child development centers that focus on care and learning and offer storybooks, videos on projectors, activity sheets, and training guides.
"There are not many times in life when you're given the opportunity to change the world," shared Sherrie Westin, Executive Vice President of Global Impact, Sesame Workshop. "This award is a recognition of the urgency and need to give refugee children a path forward."
This article was originally published on