Sesame Street's Maria Retiring After 44 Years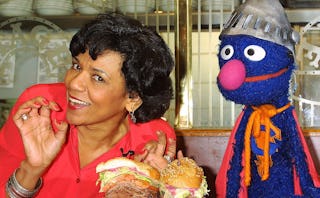 Sonia Manzano, who plays Maria on Sesame Street, is retiring after 44 years on the show. Manzano, one of TV's first Latina personalities, was a formative figure for generations of children, guiding us through weddings, births and deaths. She will be sorely missed. Below, our favorite Maria moments.
RELATED: 30 Golden Retirement Gifts To Celebrate Their Golden Years
Maria and Luis's wedding in 1988: Your wedding might have been stressful, sure, but at least Elmo wasn't your ring bearer.
Or Maria goes to the hospital. (Check out an appearance by Noah Wyle, moonlighting from ER, at about 12:45.)
I actually remember watching this with a younger cousin. Maria gets interrupted while she's trying to work, from the 1981–82 season.
My favorite Oscar the Grouch line: "So you don't think that this is a good time for me to be a grouch? Well, it's too bad, because I do!" When Oscar won't tell the fellas if Maria has had the baby, they decide to go down to the hospital and find out for themselves. All I can think is that no new mother vetted this scene because no one should ever do that. Also Maria looks rather slim and un-bloated for a gal who's just delivered.
Mr. Hooper dies, and Maria and the gang have to explain death to Big Bird.
Maria tells Big Bird all the jobs she's had since high school.
Big Bird coaches Maria through asking for a raise, suggesting that she ask in a really angry way, and then a really sad way, and then finally, they settle on letting her be herself. It works so well that Luis makes her a partner in the shop. (Proof that this was in a better economy than we're in now.)
Oh, Maria! So long. We hope you'll make at least a few guest appearances on the show, so our kids don't miss you so much.
This article was originally published on