Teen Disowned For Being Gay Starts Scholarship Foundation For LGBTQ Students
by Thea Glassman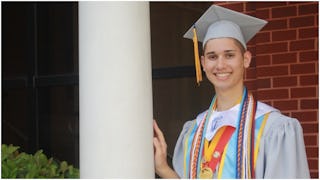 Image via GoFundMe/Jane Martin
He used his own struggles to start an important scholarship foundation for marginalized youth
Last year, Seth Owen's parents gave him an ultimatum. He could either continue to attend their church, which attacked his sexuality as a gay man, or be kicked out of the house. Owen chose the latter, lived with a friend, worked to support himself, and graduated as a valedictorian. His teacher raised money to make sure that the teen could attend Georgetown University, without the help of his parents.
Now, Owen is working to make the lives of other LGBTQ youth a little bit easier with an amazing scholarship foundation.
Owen's parents refused to help pay for his Georgetown tuition. So, his teacher stepped in and created a GoFundMe page to help raise money to send the teen to college.
"His parents have refused to support him emotionally or financially because they deem his sexual orientation inconsistent with their religious beliefs," Jane Martin, Owen's biology teacher, wrote. "Throughout this all, Seth held his head high and continued to work almost full-time while finishing high school at the top of his class."
She hoped to raise $20,000 – and the internet came through big time. The GoFundMe pulled in a staggering $141,619 to support Owen's education. After news of Owen's story went viral, Georgetown decided to award the teen a full scholarship (the school had previously declined because they thought his parents could offer support).
As a result, Owen has a whole lot of money in the bank and he's putting it to very good use. The leftover funds are being used for his new scholarship foundation Unbroken Horizons, which supports LGBTQ students struggling to finance a post-secondary school education. The 18-year-old started a GoFundMe page to raise money for five scholarships, which will be distributed to teens who have demonstrated "resiliency and academic success."
"After realizing that I would not have received the same support from the community if it weren't for my perceived race, I knew I needed to speak up and do something, thus Unbroken Horizons was born," Owen wrote on the page. "It is Unbroken Horizons' goal to make it easier for students in all marginalized communities to access post-secondary education and highlight their stories to create awareness around issues within marginalized communities."
Unbroken Horizons will provide scholarships for students interested in attending universities, technical education, and vocational schools. They will give their recipients a platform to "share their unique stories, so that they may then effect change in their communities." And they'll offer students LGBTQ+ resources so they can connect to their community.
Owen set a $37,500 goal and has already pulled in $30,730. Head to his GoFundMe page if you'd like to contribute and help make a LGBTQ student's path to college a little bit easier.