'They Lied To Us': Seth Rogen Calls Out Emmys For Lack Of COVID Precautions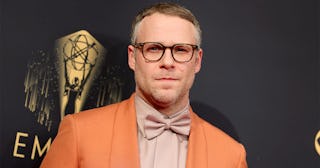 Rich Fury/Getty
If you were watching the Emmys and thinking, 'This looks unsafe,' you were definitely not alone
Anyone who was watching the Emmys last night probably had a similar thought: That looks like an awful lot of people, all unmasked, packed into a very small space. And if that's what you were thinking while watching the awards show from home, you weren't alone — even the stars who were in attendance were worried about the event's apparent disregard for COVID precautions. When Seth Rogen took to the stage to present one of the first awards of the night, he didn't shy away from calling it out.
"Let me start by saying, there's way too many of us in this little room. What are we doing? They said this was outdoors. It's not," Rogen said.
The actor and comedian went on the explain that the Emmys had told the stars who were invited to the show that it would be held outside to help mitigate risk as the delta variant drives a surge in COVID cases in Los Angeles. But when they arrived, they discovered that the Emmys were actually being held inside a tent with no ventilation.
"They lied to us. We're in a hermetically sealed tent right now," Rogen said. "I would not have come to this. Why is there a roof? It's more important that we have three chandeliers than that we make sure we don't kill Eugene Levy tonight. That is what has been decided."
He continued, "This is insane. I went from wiping my groceries to Paul Bettany sneezing in my face. So, that's a big week! If anyone's gonna sneeze in my face, Paul, I want it to be you. Alright, that's all the jokes I wrote."
While the bit was tongue-in-cheek, viewers immediately started talking online about Rogen's comments and how it appeared the Emmys' organizers lied to the actors in attendance about measures being taken to keep them safe.
The criticism online actually prompted the Emmys to display a public service announcement later in the show, and for host Cedric the Entertainer to announce that all attendees were required to both be fully vaccinated against COVID-19, and to have taken a negative PCR test before the event. Was it enough to keep everyone there safe? Only time will tell.