Here's How I Feel About My Marriage After Watching Sex/Life On Netflix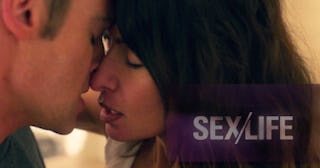 Netflix/Scary Mommy
The new Netflix show called Sex/Life is a lot to handle on so many levels. Shot after shot, we get to see the "real life" intimacy of a happily married couple. Any married couple with kids can identify with the hope of reaching orgasm before the kids interrupt in some way. Any couple can identify with the hope of having uninterrupted sex, and the desire to feel wanted while the other is distracted by their thoughts, by the television, by anything but the task at hand — the act of lovemaking. The show is raw, it's relatable (in many ways), and based on the book "44 Chapters About 4 Men" by BB Easton.
Married couple Billie, mom of two, and Cooper, investment banker dad, live in a home in suburban Connecticut — and the series takes us on the mind fuck of a mom who has had it with her current sex life and mentally, at least in the beginning, only fantasizes about the relationship she had with a past love before fantasy collides with reality.
Haven't we all been there? I am that suburban housewife, married with kids, with a house, and a life before my current life of domesticity. In that sense, I can relate to Billie, played by Sarah Shahi, who is happily married to a caring, attractive, committed partner, Cooper, played by Mike Vogel. Over the course of the eight episodes that make up the first season, we get to travel through Billie's past and can, in many ways, empathize with her feeling stuck, bored, wanting more than to be a mom and a wife — someone who is in search of that old thrill that she once had.
Can you remember that partner you had, maybe a one night stand, maybe a lengthy relationship, maybe a love you had and lost? The series actually made me think about the old loves I had, the sex life before my current one, and due to Billie's spiral down memory lane, made me wholly appreciate the life (and marriage) I have.
Marriage is about appreciating and rekindling the spark that was there in the beginning. Hell yes, marriage can be boring — and sex after 5, 10, 20 years of marriage can be boring too. What I like about this series is that Billie's character is so identifiable with the longing to rekindle her own fire within, revisit the past that gave her such thrill, or the career she gave up to stay home and raise her kids.
In different scenes, we see how Cooper tries to bring his sexual relationship with his wife back to life, but can't compete with the strong pull Billie has to go back in time, to a relationship that made her feel alive in all the ways her partnership with Cooper fails to do. The question I kept asking myself is this: is Billie bored with her sex life, or her marriage?
This Netflix show is no "Sex and the City," but it is one that so many mothers can see themselves in. The place where one day, you find yourself thinking about your past, your relationships, the sexual escapades before your married life began, before the kids. I mean, what isn't more appealing than yelling at your kids for eating their boogers? Or throwing out yet another plate of food they refused to eat? Or the partner who has minor faults like forgetting to take out the trash on trash day? Or who thinks junk food should have its own category on the food pyramid?
Why did I keep watching Sex/Life? Well, I've been a Sarah Shahi fan since she dated Shane way back when on "The L Word." Billie and Cooper's story reminds me that in marriage, we change, we grow up, and we commit to the life we have, even if we might miss the sexual escapades or the flings of the past. Because as stale as married life can be, a relationship so deep and multifaceted can't be worth throwing away to fill a physical desire.
This article was originally published on