Your Sex Life Will Survive The Early Years Of Raising Kids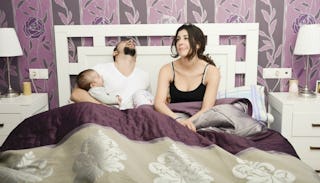 MaxRiesgo / iStock
We swore we'd never be that married couple. You know, the one who lets their sex life collapse and intimacy wane in the shadow of taking care of diaper-clad little people waddling around the house all day. Nope. Nope. Nope. That was not gonna be us. We would put our marriage first! We would religiously schedule romantic date nights and take long evening walks to reconnect after busy days apart. Amorous weekend getaways would be a breeze because we would easily entrust our babies to anyone that offered. Three kids under age 5 would not change our hot and heavy sex life at all. Time for intimacy? Of course, we will have time for intimacy. Babies sleep, like, all the time, so we'll just have sex while they all nap! We got this!
Denial. The level of denial we were in those first few years of marriage — when our sex lives not only satisfied us, they simultaneously populated our house — was off the charts. We thought we would be able to keep it up, and that the passion we had for each other could never be punctured by little people in Pampers.
But it was — deeply. We became walking zombies and instead of whispering sweet nothings into each other's ears, we were now always mumbling things like "wet wipes," "burp cloths," "nipple cream," and "please just let me sleeeeeeeep."
We went from being husband and wife to being roommates quicker than you can say "I do." We were roommates who simply shared a house, not a love nest. Even on the nights when we tried to go to bed together in the same bed, we all woke up elsewhere because of a little phenomenon we finally coined "musical beds." That's when all your babies and toddlers roam around the house in the wee hours of the morning looking for a different bed to climb into and a different companion to cuddle up with. We never knew where each other would wake up. I don't need to tell you how hard it is to have sex with a husband you can't actually locate — and when you do, he's sandwiched between a 2- and 3-year-old.
Those early years of childrearing will suck not only the mental life out of you, they will suck any urges to be physically sexual right out of you just as fast. After being over-touched all day — after nursing, bouncing, lap sitting, carrying, and rocking tiny humans — the last thing I wanted to do was give myself to someone else. I just wanted to be alone, with lots and lots of empty space around me. Alone. As in, please get off me. All of you — off.
There were points in those early years when I wondered how marriages survive this. I never had a doubt that mine would — I knew we still had enough mutual love, respect, and thankfully huge amounts of humor to help get us through these tough years — but I did wonder how our sex life would survive. Would it ever be like it was before children? How would we find the time and energy? And what will it look like? I mean, there are four other people living with us in this small house now, so how does sex actually happen?
Fear not, moms and dads of little ones. Yes, the old adage, "it's like riding a bike" has some actual merit and a ton of truth. The bikes may be rusty, the wheels may squeak, and you may fall off a few times, but I promise you will make it back to being the sexual couple you once were. Endless bedtimes spent reading Chicka Chicka Boom Boom will soon be replaced with daytimes spent doing the Boom Chicka Wow Wow, because little people turn into big people who turn into kids that go to school all day.
Sex in the middle of the day with the doors all open? Yes, please. Date nights that now happen on a Wednesday during lunchtime at home? Yep. You need to make that happen. And when you finally reach that point when you both know you're officially done having kids and pregnancy scares become a thing of the past, sex becomes a whole new experience. Procreating and hoping to make a baby? Hell no! Not anymore, thank you very much. Sex that is just all about us? Bring it on.
Keep your patience with each other during those early years, and don't put undue pressure and expectations on each other that you will just feel bad about not meeting later. Weekly date nights when there are babies at home may just not be feasible, and that's okay. They aren't gone forever, and your sex life will survive this and be better for it. I promise.
Before you know it, you will find yourselves alone on Friday and Saturday nights with the house all to yourselves because of this fantastic phase called the teen years. Those silly teenagers will be out thinking they are having all the fun. Ha! They don't have a clue how crazy their mom and dad are getting right now at home. As a matter of fact, there just may be some "Are your parents coming home soon?" role play going on right about now.
"Go ahead and stay out as late as you want kids. We're going to bed early." Wink Wink.
This article was originally published on