Aziz Ansari Has Been Accused Of Sexual Misconduct
by Cassandra Stone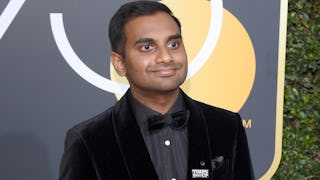 Image via Venturelli/WireImage
The details shared by Ansari's alleged victim are disturbing
Actor and comedian Aziz Ansari is now the latest member of Hollywood to face sexual assault allegations, brought forth by an anonymous woman who went on a date with him last fall. The detailed story she relayed to Babe under the condition of anonymity is a disturbing recount of the night.
The 23-year-old photographer claims Ansari took advantage of her during a date in September 2017. The woman — only referred to as "Grace" in the piece — labelled the interaction as "by the far the worst experience with a man I've ever had."
[Trigger warning: details of sexual coercion below.]
Initially meeting at an after-party for the Emmys last year, "Grace" says she and Ansari met up again when they both arrived back in New York. She says they met at his apartment, had a drink, then went out to dinner. As soon as the check was delivered, she says Ansari seemed to be in a rush to get back to his apartment.
When they got there, Grace says she recalls complimenting his marble countertops, which is where the story starts to take a serious turn.
"He said something along the lines of, 'How about you hop up and take a seat?'' Ansari allegedly started kissing and groping her within seconds, and began undressing himself while undressing her. She recalls Ansari saying he was going to grab a condom — within minutes of their first kiss.
After trying to get him to "slow down and relax," Grace says he kept kissing her, groping her, and even performed oral sex on her while insisting she do the same to him.
"The move he kept doing was taking his two fingers in a V-shape and putting them in my mouth, in my throat to wet his fingers, because the moment he'd stick his fingers in my throat he'd go straight for my vagina and try to finger me," she says.
Disturbing as that is, Grace says it didn't end there. He allegedly kept pushing himself on her, saying he wanted to "fuck" her, despite the fact that she wasn't offering her consent.
"I know I was physically giving off cues that I wasn't interested. I don't think that was noticed at all, or if it was, it was ignored." She says she tried to stall, and to get him to slow down by saying they could get physical after they got to know each other. "And he goes, 'Oh, you mean second date?' and I go, 'Oh, yeah, sure,' and he goes, 'Well, if I poured you another glass of wine now, would it count as our second date?'"
Ansari allegedly continued to force himself on her — both physically and through another tactic: coercion. After taking time to collect herself in the bathroom, she decided to attempt to end the "date" once and for all, even telling him she was leaving because she didn't want to feel "forced."
She says she called him out about his behavior via text the following day, to which Asari responded "I'm so sad to hear this. Clearly, I misread things in the moment and I'm truly sorry."
Grace called it "by far the worst experience with a man I've ever had."
Women on Twitter were quick to share their support of Grace's story, because many of us have had similar disturbing experiences with shitty men.
https://twitter.com/jetpack/status/952349325614567424https://twitter.com/jetpack/status/952388951817383937
Writer Sady Doyle further expanded her thoughts on Ansari and why victim-blaming is absolutely not the way to go here.
If you've never found yourself as an unwilling participant in a situation like this, you don't get to victim-blame and proclaim you'd have handled it better.
The bottom line here amid these allegations — and all manners of sexual misconduct — is that if you're not getting a perfectly clear, consensual response during a sexual encounter, THEN IT IS NOT CONSENSUAL. If you're unsure about your partner's willingness to proceed, just ask them about it.
This article was originally published on